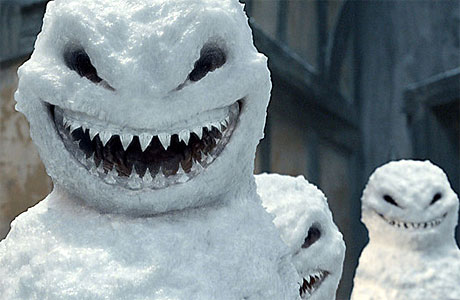 The beautiful thing about the Doctor Who Christmas special – The Snowmen (see above) being on Christmas Day itself, is that even the most atheist, most humbuggy old Scrooge can count down the days between then and now using an advent calendar, just like the kids are doing.
And seeing as most modern advent calendars come with a little present every day, it's only natural that the Doctor Who website should have created their own version, the Adventure Calendar, and the first door will be opened tomorrow.
The site sprites are offering a heady mix of exclusive videos, picture galleries and other surprises, including an interview with Jenna-Louise Coleman, and a specially-commissioned story, written by Joseph Lidster (Torchwood, The Sarah Jane Adventures, Wizards vs Aliens)
Start your Adventure Calendar adventure here… (but not until tomorrow)
Oh and if you wanted a full synopsis of The Snowmen, they've obliged with that too (naturally it's a smidge spoilery, so only read on if you want to):
"Christmas Eve 1892 and the falling snow is the stuff of fairy-tales. When the fairy-tale becomes a nightmare and a chilling menace threatens Earth, an unorthodox young governess, Clara, calls on the Doctor for help. But the Doctor is in mourning, reclusive and determined not to engage in the problems of the universe. As old friends return, will the Doctor really abandon humankind or will he fight to save the world – and Christmas – from the icy clutches of this mysterious menace."
Oh alright, let's watch the trailer again:
*sigh* Roll on tomorrow, eh?
Read More
Filed Under: