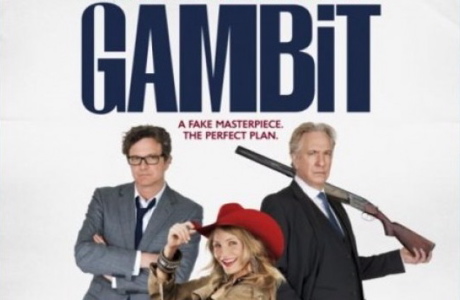 Colin Firth has said in multiple interviews that he signed on for Gambit, the remake of the 1966 Michael Caine crime comedy, because he was looking for a change-up from the sort of heavy-lifting required, dramatic roles he had played recently in A Single Man (2009) and The King's Speech (2010).
Well, he got a change-up, just maybe not what he was expecting. Rather than the usual raves for Firth and his films, the early reviews on Gambit – it opened in England this past week – have been, at best, lukewarm. Most have been downright nasty.
"Firth loses his trousers for a protracted centerpiece sequence at the luxurious five-star Savoy hotel in London but Gambit loses its way well before then, wheezing and spluttering from one clumsy gag to the next," wrote a critic in the Coventry Telegraph.
"Gambit is like drinking cheap, warm champagne from a plastic cup," complained Trevor Johnston in Time Out London. The same critic was incrementally kinder to Firth: "[He] adopts a fallback style of clenched teeth and a pained look. His likeable performance as a London art expert plotting to turn the tables on his employer with a fake Monet keeps the movie on track, just."
The most complimentary review damned with faint praise. In Empire, Kim Newman ended his review with, "Verdict: A few smiles and some fraying charm, but big laughs are missing. This just about gets away with it rather than romps off with the loot."
The film, directed by Michael Hoffman (The Last Station), has a script by brothers Joel and Ethan Coen. Firth's co-stars include Cameron Diaz along with Brits Alan Rickman and Tom Courtenay.
Gambit does not yet have a U.S. release date. (An opening date of Oct. 12 was scheduled and then canceled earlier in the year.) Here's the trailer:
————————————-
Will you still see Gambit despite the British reviews?
————————————-
Read More
Filed Under: