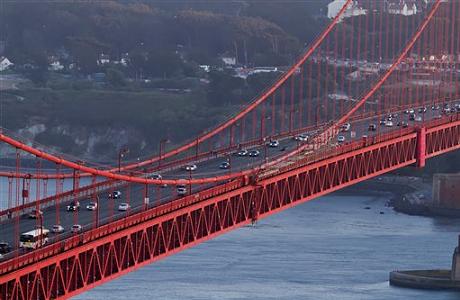 He may have trekked the globe and saved it many times over, but some of 007's most famous fist fights, soirees and sex scenes took place right here in the U.S. Put these sites at the top of your Bond bucket list.   
1. City Hall and the Golden Gate Bridge, San Francisco
When deranged genius, Max Zorin (Christopher Walken), tries to cause an earthquake that'll wipe out Silicon Valley in A View to A Kill, Bond (Roger Moore) and comely geologist Stacy Sutton (Tanya Roberts) race around Frisco in a bid to thwart his evil plan. They end up trapped in a burning SF City Hall and, later, brawl with bad guys on the Golden Gate Bridge.
2. The Las Vegas Hilton and Circus Circus, Las Vegas
This Vegas mega-hotel doubled as The Whyte House, home of reclusive millionaire Willard Whyte, in Diamonds are Forever. But all is not quite as it seems: The lofty building behind the main hotel was added in post-production to make the complex look larger. Since the film was released in 1971, the Hilton has expanded in real life too: an east tower was completed in 1975 and a north tower in 1978. The same film sees Tiffany Case (Jill St. John) shoot at water balloons at casino and hotel, Circus Circus. Patrons can still use balloons for target practice (head to the second floor) today.
3. Fontainebleau Hotel, Miami
This exclusive Floridian resort features in 1964's Goldfinger, Bond's first ever American outing. It's in this luxury hotel, which was recently restored, that 007 gets jiggy with the beautiful but doomed Jill Masterson (remember the "death by gold" scene?) and catches Auric Goldfinger cheating at cards. 
4. Oh Cult Voodoo Shop, New York
Live And Let Die (1973) sees Bond (Roger Moore) land at JFK then head into Manhattan to investigate the killing of three MI6 agents. He ends up here, at 33 East 65th street. These days, the Upper East Side address houses an upscale jewelry shop, so don't go in and ask for a shrunken head.
5. Key West, Florida
In Licence to Kill (1989), Bond (Timothy Dalton) hands in his resignation to M (Robert Brown) at Ernest Hemingway's Spanish Colonial-house in Key West. When the MI6 boss tells 007 that'll have to hand in his gun, Bond quips, "I guess this is a farewell to arms," a nod to one of Hemingway's most famous novels.
6. New Orleans, Louisiana
It was in Live and Let Die that Bond (Roger Moore) made his first and, to date, last appearance in The Big Easy. As a jazz band-led funeral procession heads down Dumaine Street in the city's French Quarter, things take an unpleasant turn for one watcher who, foolishly, asks whose funeral it is. Answer: "Yours".
7. Fort Knox, Kentucky
This legendary location – an army post and bullion depository south of Louisville – is where Goldfinger plans to set off a nuclear bomb. Although the fleeting exterior shots are for real, the fort's inside was recreated at Pinewood Studios in the UK.
8. The Elrod House, Palm Springs
This iconic midcentury structure, made of reinforced concrete and designed by John Lauter, shows up in Diamonds Are Forever. The mansion hosts a swimming pool-side duel between Sean Connery's Bond and two glamorous, bikini-clad bodyguards, Bambi and Thumper.
 Have you booked your plane tickets yet?
Read More
Filed Under: