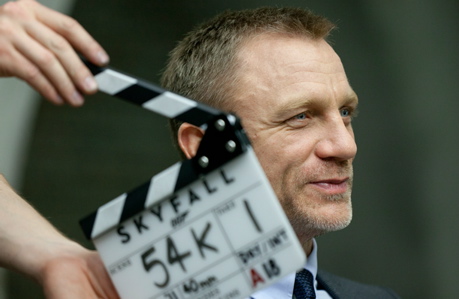 James Bond may not have a middle name but Daniel Craig does. His is Wroughton, as in Daniel Wroughton Craig.
It's a family name, and he was given it shortly after his birth near Liverpool in 1968. At that time, the James Bond film series was already six years old and included five films, all starring Sean Connery.
Thirty-eight years later, Craig became the sixth actor to play the British super spy when he starred in Casino Royale in 2006. (In addition to Connery, previous Bonds include George Lazenby, Roger Moore, Timothy Dalton and Pierce Brosnan.)
With Skyfall, which opens in the U.S. today (Friday, Nov. 9), the Bond franchise celebrates its 50th year and 23rd film. For Craig, it's his third outing as Agent 007 – Quantum of Solace was released in 2008 – and he is getting reviews to match the hosannas that greeted his debut effort, Casino Royale. (While he received good personal notices for Quantum, the film was considered sub-par Bond.)
The glowing reviews are deserved. Skyfall, which reunites Craig with fellow Englishman Sam Mendes, who first directed him in the gangster film, Road to Perdition (2002), crackles and pops with dark energy.
While it has its share of superb chase scenes, beginning with an opener in which Bond battles a baddie atop a moving train, the movie puts more focus on 007 and the other characters than on high-tech gadgetry or weapons.
The plot has Bond and M (Judi Dench) swinging into action when MI6 headquarters in London is bombed. Talk about hitting close to home.
The movie has a couple of big surprises, which it pulls off with style, and it does a splendid job of laying the groundwork establishing several key new characters and paving the way for a transition or two in personnel. And it doesn't hurt that the supporting cast, in addition to Dench, includes Ralph Fiennes, Javier Bardem, Naomie Harris, Albert Finney and Ben Whishaw.
As for Craig, his third outing as Bond leaves in the dust any doubt that he now owns the role. He's tough, tenacious and tender, and gives his brooding 007 more of an edge than the secret agent has had since Connery played the part. Bonus: he doffs his shirt multiple times.
Clearly, the producers knew what they were doing when they picked him to succeed Brosnan and reboot the franchise. At the time, Craig reportedly beat out Brit Clive Owen and Aussie Hugh Jackman, who were also mentioned for the role.
He already had an impressive resume. After graduating from the Guildhall School of Music and Drama in London in 1991, he had starred on stage and British TV. Hollywood twigged to his appeal fairly quickly with a role opposite Angelina Jolie in Lara Croft: Tomb Raider (2001).
Next came Road to Perdition, in which Craig held his own with Hollywood heavyweights Tom Hanks and Paul Newman. He then scored with a string of strong performances in a quartet of British indies: The Mother (2003), Sylvia (2003), Enduring Love (2004) and Layer Cake (2004).
After that, Steven Spielberg signed him for a major supporting role in Munich (2005). Then, when Casino Royale opened a year later, Craig became a household name.
In between outings as Ian Fleming's signature character, Craig has tried to shake off 007. High-profile films in which he has starred include The Golden Compass (2007), Defiance (2008), Cowboys & Aliens (2011) and The Girl With the Dragon Tattoo (2011).  A few bombed outright and none have reached the box office heights of his Bond efforts.
Another of these excursions, Dream House (2011), sank at the box office, but it yielded a happy personal result for Craig. He ended up wedding his co-star, the Oscar-winning English actress Rachel Weisz, in July 2011.
The actor is signed to make two more Bond films but has already made noises to the effect that he'll be gone after that, if not sooner.
"I've been trying to get out of this from the very moment I got into it," he has been quoted as saying in an interview with the Nov. 22 issue of Rolling Stone. "But they won't let me go, and I've agreed to do a couple more, but let's see how this one does, because business is business and if the s*** goes down, I've got a contract that somebody will happily wipe their ass with."
Given Skyfall's success – it has already made $321 million overseas – it's a solid bet that Craig can keep being Bond for as long as he wants to hold on to the role. Not that that will necessarily make him happy. He's apparently a guy who's more about the hunt than the prize.
As he said in an interview published in GQ last year, "I'm definitely not satisfied about my career. I don't know how you can be; it's the very nature of things. I'm always trying to figure it out and I'm kind of unsatisfied constantly. I always want to get it right and I don't know what the answer to it is. But I do know that it's out there and I do know it's worth looking for."
Maybe it's just us, but we've always thought Craig reached his career peak when he co-starred as himself with Catherine Tate in a BBC Comic Relief sketch in 2007. They play a couple who met on-line – his handle was "BondBoy68" – and he's besotted with her flakey character. It's hilarious. Take a look:
——————————–
Is Daniel Craig your favorite James Bond?
——————————–
Read More
Filed Under: