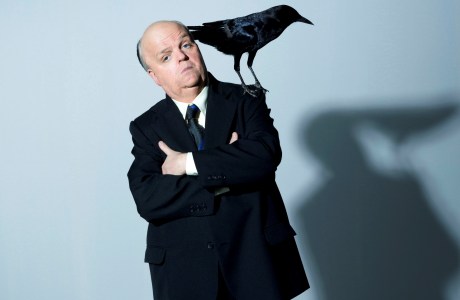 British actor Toby Jones, who plays Alfred Hitchcock in the new HBO telefilm The Girl broadcast tonight (September 20), says that appearing in an episode of Doctor Who was "far cooler."
Jones played the Dream Lord in the Doctor Who episode "Amy's Choice" two years ago. He says: "For my children it's about the coolest thing I could be in. It was great to do that."
And the actor was very impressed by Matt Smith. "He's a fantastic actor. He's extraordinarily level-headed and he seemed very grounded."
Jones was making his comments at the Hamptons International Film Festival where he was promoting his role as Hitchcock in the much anticipated The Girl.
The telefilm, which explores the obsessive relationship Hitchcock had with actress Tippi Hedren, provided Jones with a big acting challenge in taking on such an iconic figure.
"You're full of dread and fear and terror as to whether you can do it," he says.
The actor had to undergo a physical transformation for the role.  "I had to have a fat suit, but I also had four hours of make-up everyday," he explained.
Jones has been praised for his acting but the film paints a rather depressing picture of one of Britain's most revered filmmakers.
I asked him if the portrait that emerges is fair and accurate.
His response: "I hope it's fair in that it's based on several testimonies, not just Tippi's testimony. I hope I have been able to make him not a monster. He behaves monstrously at one point, but hopefully it's balanced out."
"The Girl" premieres on HBO on Saturday, October 20 at 9pm ET.
Read More