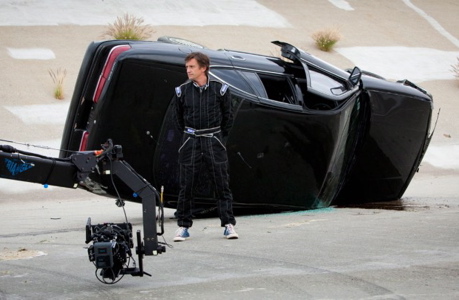 This week, Richard Hammond survived being thrown off a bridge and being set on fire as a Hollywood stunt man. The challenges he faced all presented threats to life and limb. In next week's show, the challenges are mostly to his psychological and emotional health, but they are no less real.
The new episode of Richard Hammond's Crash Course airs Monday, October 29, 10p/9c.
• As Richard tried his hand at being a New York City cabdriver, Jalopnik's Travis Okulski was invited along for part of the ride. The writer met up with Hammond in front of one of the city's gastronomic institutions, Katz's Deli, on the lower East side.
"The owners of Katz's know who he is, I've never even heard of him," John McDonagh, Richard's cab driving teacher tells Okulski about the Crash Course host. "They even had him sign a picture to put on the wall. That means they're going to take down some poor Jewish comedian."
Among other hardships as a cabbie, Richard faces a 100-degree city temperature with a broken air conditioner, parking tickets and total engine failure.
When Richard drops off Okulski to get to the business of picking up passengers, he leaves him at Clarkson Street in downtown Manhattan.
Okulski writes: "I jokingly ask Richard to take a picture under the street sign, to which he smiles and replies that he 'doesn't want to give that oaf any publicity of any type.'"
• The most important review for the season premiere probably comes from Rick Avery, Hammond's mentor for the first episode.
Richard, says three-decade movie stunt veteran Avery, "would be a great stuntman, there's no doubt in my mind."
Avery, who's worked on films including The Dark Knight, Titanic and The Italian Job, says that Hammond did whatever it took to get the stunt done. "Rolling a car, putting yourself on fire, and doing live falls, and doing a fight with three guys… that takes a lot of courage," Avery says.
Avery told BBC America that he himself has a fear of heights just like Richard – so do many stunt people, he added – but that it's all about confronting your fears, something he said Richard did admirably.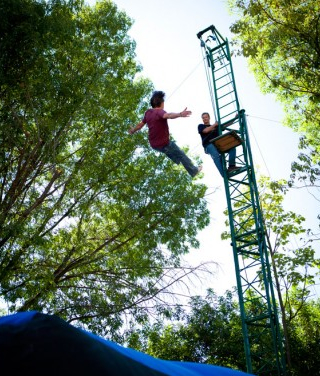 "Richard is a guy, I think, who would be able to do it all," Avery said. "He was awesome and we had a lot of fun."
• Here's a behind-the-scenes video of Avery discussing his career, with his son Mike, who's followed him into the business:
• And for those of you who like show highlights, here's the big rollover scene:
• For a complete look at how Richard learned to punch, fall, drive and even burn his way to stuntman greatness, take a look at BBC America's Crash Course Stuntman episode recap by MacKenzie Wilson.
And you can also take a look at the show promo that Richard spent the first episode working on:
• James May has kind words for the city of Birmingham, England, which is hosting Top Gear Live, beginning today.
"It's nice to talk about Jaguar knowing it's the local produce. In parts of West London, the local produce is muesli, the produce here is cars," May told the Birmingham Mail.
"Birmingham," joked May, "has always had a better show than London because London saw it first. This time we practiced."
Top Gear Live in Birmingham runs from today (October 25) through October 28.
In addition to the usual (or unusual) Top Gear antics, the show will include a tribute to a half-century of James Bond cars. The show's stunt team is also trying to set a world record by doing a double loop-the-loop on a motorcycle.
Read More
Filed Under: