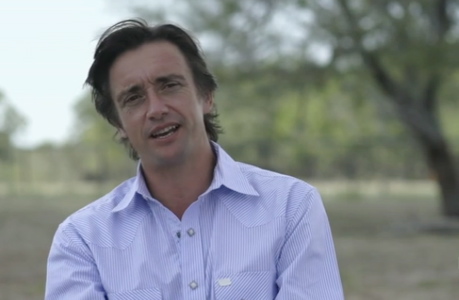 Richard Hammond has spent a good deal of time over here in the U.S. He enjoys getting to know us Americans through our jobs, and he even tries to see if he can learn to do them himself in his show, Richard Hammond's Crash Course. He seems to get us and our lingo.
But he says we're missing a very important word in our slang.
He thinks Americans would benefit greatly if we added the term "bollocks" to our colloquial vocabulary. Most Anglophenia readers are likely familiar with the term, which refers to an exclusively male two-fold bodily part and is used in everyday vernacular as a noun to mean "nonsense" or an exclamation to express annoyance.
Hammond also drives very fast cars, and he even survived a now-famous crash in a jet-powered vehicle in 2006.
But what was the scariest thing for him about doing season 2 of Crash Course? What sent more shivers down his spine than jumping several stories or being set on fire?
Being a standup comedian.
"You're more naked," says the Hamster. "When you're doing standup and you're on your own on that stage and you don't get a laugh, that's because of the material – all of which you wrote – or the delivery – which you did. The buck stops there."
Of course, other parts of Crash Course, which begins its second season on October 22, 10p/9c, were pretty wild as well.
• Airing immediately before the premiere of season 2 of Crash Course, Richard will be hosting part one of a two-part Top Gear special – Top Gear Top Fails – which will showcase some of the show's most epic disasters and crashes. "What could possibly go wrong?" asks Richard. Part one of Top Fails will air at 9p/8c on Oct. 22; part two will air on Oct. 29. They'll be followed, on successive Mondays, by four all-new Top Gear specials.
• Top Gear Live returns to Birmingham later this month. The triumvirate plus The Stig will converge on the city in England's West Midlands region and, in addition to the expected mayhem, will offer some sort of commemoration of the TV show's tenth anniversary.
"We talked to The Stig about jumping out of a cake," Top Gear's executive producer Andy Wilman told the Telegraph, "but his left elbow started twitching, which is always a warning of impending massive violence, so we abandoned that idea."
Instead, said Wilman, they'll show a "lovely and mostly tasteful film" about the show's first ten years.
"Firstly because it's full of good things," he explained, "and secondly the audience can have a laugh at how much the presenters have aged. Except for James, who was already very old."
• The now even older James May told a radio show in England this week that he thought another James – James Bond – is also getting a little bit old.
Top Gear Live is featuring a Bond 50th anniversary segment, and Top Gear is also working on a special scheduled to air in Britain in November about the cars of 007.
But that didn't stop May from speaking his mind.
"I've got to be brutally honest, and I know this is an unpopular thing to say," May said, "but I find the old Bond films a bit tired these days and a bit hammy."
When the radio host asked May which Bonds he was talking about specifically, May responded: "All of them, to be honest."
And just in case anyone thought he was singling out 007, he took on perhaps the world's most famous car chase movie as well: "I also don't think Bullitt is that good."
May also wanted to set listeners straight about what he and his colleagues are like behind the scenes at Top Gear Live.
"I'd love to say it's a rock 'n roll lifestyle and we're drinking twice distilled scotch whiskey out of the navels of supermodels lounging on our sofa," May said, "but actually, it's probably Jeremy asleep on the sofa, I might be playing computer battleships on my phone, Hammond would be doing his hair."
Read More
Filed Under: