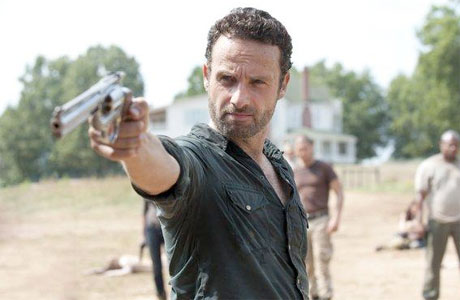 From where I'm sitting, at the South-Western-most corner of Great Britain, biggest of the British Isles, it seems inconceivable that anyone would be unaware that Andrew Lincoln, star of The Walking Dead, is a British actor, with a British accent. And yet, from what I understand, fans of the show are either ignorant of this, or worse, refuse to accept the essential truth of the matter, despite his high profile appearances as a British man in Things Which Americans Have (Probably) Seen.
So, here's a brief reminder of his past, a showcase of the Andrew Lincoln that I, and many British people like me, know best of all:
This Life (1996)

Yes, that's Jack Davenport looking about nine, and Andrew looking like a man who has better hair days ahead of him.
Teachers (2001)

After the success of This Life, which made instant household names of everyone involved, Andrew's next move was this sly drama about unprofessional professionals working in teaching.
Love Actually (2003)
I can't tell you how tempted I was to go with the bit where he's just holding up cue cards for Keia Knightly to read.
Afterlife (2005)
Another educational role, this time as a professor in this spooky drama.
Made In Dagenham (2010)
And another trip back to the blackboard in the story of striking female workers at an Essex car plant. No wonder he prefers being a cowboy these days.
Read More
Filed Under: