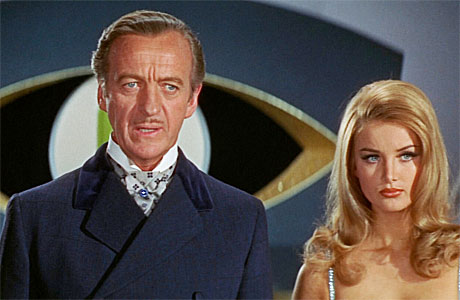 Over the 50 years since James Bond first stalked that bloody circle at the beginning of Dr No, many, many actors have been considered for the role. Some have been dismissed by producers, some have ruled themselves out due to concerns about the role, and there are even a handful of non-British actors who gently suggested that Bond should always be played by a Brit (a consideration Henry Cavill did not show to the all-American – well, Kryptonian, but still – Superman).
So, from a very long list indeed, here are fifteen highly-notable stars who either considered or were considered for the role of the greatest British movie spy in history. And this isn't even the complete list. There's no Clive Owen, no Sam Neill, no Dougray Scott and no Jason Statham (all of whom could have been included). But look! There IS Doctor Dolittle:
Rex Harrison
The original Ian Fleming Bond was a rarefied thug, someone who thought little of killing people, but had extraordiarily high standards of grooming. Basically a psychopath Henry Higgins without the zeal for reforming young girls (quite the opposite, if truth be told). And who's played the best Henry Higgins ever? Exactly. Although the producers felt Sean Connery would be better for the action sequences.
David Niven
Although David was Ian Fleming's personal choice for the role, he was turned down in favor of Sean Connery, although he did get to spoof the franchise, and play the Bond role in 1967's Casino Royale.
Richard Burton
Ever the scathing thespian, Richard turned the role down at first because he felt the films lacked potential as a series, and then once they'd proved their worth, he asked for more money than they could afford.
Cary Grant
When Dr No was being cast, Cary was 58 years old, and so he turned down the chance. Which may have been good for the franchise, given that he was only interesting in shooting one film.

James Mason
Another early bailout, James was actually offered a three-picture contract to play Bond, but would only commit to two.
Michael Caine
When Sean chose to leave the Bond franchise after 1967's Diamonds Are Forever, Michael was considered for the role, especially as he'd recently proven himself a great screen spy as Harry Palmer in The Ipcress File, and a great ladies' man in Alfie. However, Michael was worried about being typecast, and turned the offer down.
Michael Gambon
After George Lazenby had proven to be a flop as Bond in On Her Majesty's Secret Service, the producers cast about again, and wanted to take a look at this fellow with the lugubrious voice. Michael, for his part, claimed that he was clearly not handsome enough to play Bond, and so Sean Connery was brought back in for Diamonds Are Forever.
After the original quest for a Bond in 1961, the most fruitful era for would-be 007 gossip occurs in the mid-'90s. Roger Moore and Timothy Dalton have been and gone, and Pierce Brosnan is in the frame, but who else is on the list? Well I'm glad I asked:
Ralph Fiennes
Poor Ralph was actually considered twice for the role, once in 1994 – producers felt he wasn't a big enough star yet – and again in 2004. This time it was his own filming commitments that ruled him out, but you have to admit, if anyone is to resurrect the cold-eyed killer fop Bond, it'd be Ralph.
Liam Neeson
The story goes that Liam was approached, but turned the offer down as he was not interested in appearing in an action movie. And to be fair, the leap from Schindler's List to "Bond, James Bond" would've been pretty huge.
Paul McGann
Paul could very well have been the new Bond had Pierce turned it down. He auditioned and impressed everyone. It's claimed he was the second choice for the part, should anything have gone awry. Whether this would have ruled him out as a potential lead in 1996's Doctor Who TV special is a matter for, y'know, timey-wimey conjecture.
Jude Law
Handsome fella, looks good in a suit, even played the Michael Caine role in the re-swizzled Alfie, so he's clearly got the right qualities. But a blond Bond? Hmm…
Colin Firth
One of many actors considered for the part once Pierce Brosnan had moved on. Despite being happy to appear in children's films (Nanny McPhee), teen films (St Trinians), spy films (Tinker Tailor Solider Spy) and romantic comedies (Love Actually), Colin is said to have had no interest in the role.
Dominic West
A strange tale, this. Apparently Dominic was in the frame for Casino Royale (the Daniel Craig version, not the David Niven one), was keen, but heard a rumour that Pierce Brosnan was going to reappear instead, and pulled out, shaken (but not stirred etc).
Hugh Grant
This one can't be a surprise, surely. Although Hugh's not really the killer type, even when playing total rotters. Let's just say this one would only work on paper and leave it there.
And finally, a cast-iron potential contender, should Daniel Craig have failed to return after making Quantum of Solace in 2010:
Christian Bale
No disrespect intended to Mr Craig, but we know Mr Bale could do this job rather well. After all, who is Bruce Wayne if not 007 without a license and with a goth fetish? Maybe some of the humor might disintegrate coming out of Christian's grizzled throat, but you can't fault the Bond producers for having this name on their list.
Who do you think would be the best Bond when Daniel leaves? Tell us here:
Read More
Filed Under: