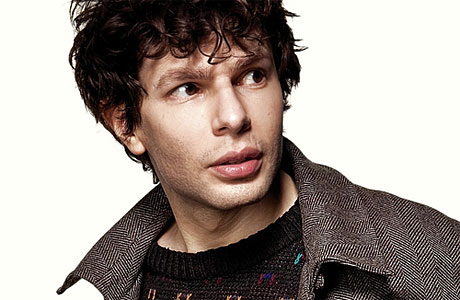 Simon Amstell is a very funny man. He's been a funny TV presenter, mocking pop stars and celebrities to their faces in Popworld and Never Mind The Buzzcocks; he's been a funny sitcom creater, in the slow-burning Granny's House, and he's been a funny stand-up comedian. So funny, in fact, that his stand-up special Do Nothing is on BBC America on this Saturday (October 6) at 11 pm ET.
If you're a fan, or will become a fan after Saturday, you might be wondering who else is there from the British comedy scene that does what Simon does. And the short answer is: no one. The slightly longer answer is there are a lot of people who do, or have done, similar things, some of which have been amazing, so here are ten of them:
Let's start with Simon at his celebrity-baiting best, from Never Mind The Buzzcocks, so we all know what we're talking about…
And here's Sacha Baron Cohen's character Ali G, from 2001, doing pretty much the same thing to David and Victoria Beckham:
And even further back, Caroline Aherne's character Mrs Merton made mincemeat of a ton of British celebrities, simply by playing the harmless old lady. Here's her most celebrated deflation, that of Debbie McGee, wife of TV magician Paul Daniels.

While we're doing spoof chat shows, here's Chris Morris, as part of his peerless news satire Brass Eye, poking fun at TV coverage of the Aids epidemic:

Not that Simon's comedy is entirely media-facing. His stand-up tends to be more introspective, although every bit as scathing. Not unlike that of Josie Long:
Or indeed, seeing as we're doing people who annoy celebrities and then mock themselves, Russell Brand:
Subtract the self-mockery and add hubris, and you've got Ricky Gervais:
http://www.youtube.com/watch?v=Ph7DOF3SrFw
Puff up the hubris until it hurts, or ramp up the self-mockery until it becomes colossal misanthropy, and you've got Frankie Boyle:
Then add a cherubic face and an obsession with very short one-liners, and hello! It's Jimmy Carr:
Add 20 years to that, slow the delivery right down, ditch the one-liners in favor of long, considered monologues and rambling examinations of the comedic process while still in the middle of the comedic process, but, crucially, never drop the withering scorn, and you're looking at something like Stewart Lee:
Now, make those monologues political, drop the cuddly surrealism and add the joy of righteousness (or self-righteousness, if you don't happen to agree with his views) and leave the audience critique in favor of appeals to our common goodness, a ton of research, and a lot of direct action, and you've got Mark Thomas:
Note: we've defintely left out a lot of amazing comedians here. Who should be on this list?
Read More
Filed Under: