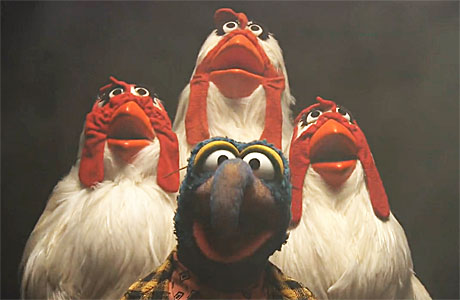 Note: some of these are songs performed with Muppets as well as by Muppets. But there are songs and there are
Muppets, so that should be good enough for anyone.
"Ob La Di, Ob La Da"
http://www.youtube.com/watch?v=sVLkRixjHo8
The Muppets did a TON of Beatles songs: everything from "Blackbird" to "In My Life." This is one of those occasions where they attempted to do a British accent, which is especially fab/gear on this song, because in its original form "Ob La Di…" is the song on which Paul McCartney attempts a Jamaican lilt. It's a bad accent jamboree!
"The Angels Wanna Wear My Red Shoes"
Sesame Street has a strong tradition of taking modern pop songs and twisting them for educational purposes. This was recorded last year. Which does beg the question, who is it for? How many children young enough to need help with their 123s are going to be familiar with the early work of Elvis Costello? And how many Elvis Costello fans can't count? Second thoughts, don't answer that…
"Wotcher (Knocked 'Em In The Old Kent Road)"
And while we're on the topic of accents, here's Fozzie doing an old British music hall number, dressed as a pearly king.
"Crocodile Rock"
And at the other end of the scale, whatever that scale may be, Sir Elton John dressed as an actual muppet, leading a choir of crocodiles. All in a day's work.
"(I Can't Get No) Satisfaction" 
http://www.youtube.com/watch?v=2OrA29X6F0U
Or, more correctly, "(I Can't Get No) Co-operation" (with just a smidge of "Ruby Tuesday" thrown in there too). And hats off to the Children's Television Workshop and Sesame Street for replicating the late '60s satanic Mick Jagger in all of his preening glory.
"The Ying Tong Song"
http://www.youtube.com/watch?v=h9R3gtXNn-M
You may congratulate yourself that you have very eclectic tastes in music, but trust me, compared to the people who picked the songs for the Muppets to sing, you're the most single-minded Bieberphile ever, and so am I. Here they are performing a song written by Spike Milligan for the Goons, and might I add, the Muppet version is the least zany of the two.
"Consider Yourself"
This song, written by Lionel Bart for the musical Oliver!, was a firm Muppet favorite. It appeared in a very early Sesame Street, before making the move to the Muppet Show, as a song of welcome for Edgar Bergen and Charlie McCarthy.
"You're Beautiful"
http://www.youtube.com/watch?v=PIEHN6somus
Geometry improved the song no end, in my humble etc
"I Am The Very Model of a Modern Major-General"
http://www.youtube.com/watch?feature=player_detailpage&v=1HL2mS65vPk#t=269s
Now we're going back almost as far as "Wotcher," to the days of Gilbert and Sullivan. Arguably their works are of more cultural renown these days in America than in Britain, given the Pirates of Penzance references from TV shows such as The West Wing and Family Guy.
"Bohemian Rhapsody"
And here's the motherlode. It's a song so singular that no spoof or cover can smooth off the sharp edges, and yet it also seems tailor-made for Muppetry. As a teaser trailer for last year's Muppet movie, this was an astonishing success, and curiously moving too.
Read More
Filed Under: