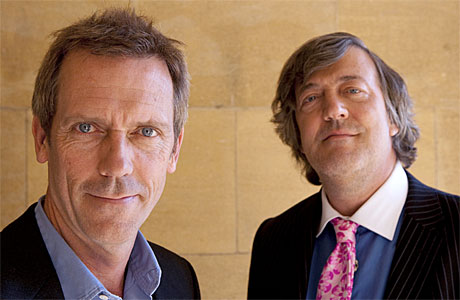 Back in May, we ran a story about Stephen Fry and Hugh Laurie working on a new collaborative project for the first time in 13 years. It was, as is appropriate for nowadays, sparked off by a tweet from Stephen, in which he teasingly said "M'coll* Hugh Laurie and I are cooking up a project together. We will be working again soon. Sorry to be mysterious but more news when I can."
Well, the news is in. They've ben adding their voices to an animated version of the Oscar Wilde short story The Canterville Ghost, made by Melmoth films, with Arc Productions, the same studio that gave us Gnomeo and Juliet, Arc Productions, in association with Dorado Media.
In this lavish new 90 minute production, Stephen will take the part of Sir Simon de Canterville, a ghost that haunts a British mansion, while Hugh plays the estate's mysterious gardener. It's a tale of two cultures clashing, when Sir Simon's country pile is invaded by brutish Americans. Or at least, that's his view of the situation.
The screenplay is by Giles New and Keiron Self, who have written sketch comedy for Mitchell and Webb, the inheritors of Fry and Laurie's Oxbridge sketch comedy throne(s).
The Canterville Ghost will be released worldwide just before Christmas 2014.
Read More
Filed Under: