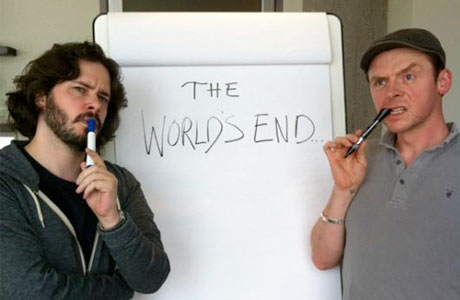 Shaun of the Dead and Hot Fuzz fans have been waiting eagerly to hear whether the writing/directing/buddy/buddy/buddy team of Simon Pegg, Edgar Wright and Nick Frost will be reuniting for a third installment in what they're now laughingly calling the 'Cornetto Three Flavors' trilogy (because Simon and Nick have eaten different flavor ice-creams in the last two, and, er, that's it).
And the good news is there WILL be a third film, now that Edgar's Scott Pilgrim vs. The World is out of the way (and presumably as soon as Simon has finished with the next Star Trek movie). It will be called The World's End and will be about a group of school friends who have all grown up apart, and decide to have a reunion pub crawl.
You know what a pub crawl is. right? Just an extended drinking night out, going from bar to bar and having at least one drink in each one.
And it's in the middle of this emotional booze-up that scary things begin to happen. Doomy things. Things with serious consequences for the human race.
So it's just as well the cast includes not only Frost and Pegg, but also the amazing Eddie Marsan, Paddy Considine (who, like Martin, was also in Hot Fuzz), Rosamund Pike…and some fella called Martin Freeman.
It's a mark of how much time has passed since Shaun of the Dead (eight years! Eight!) that you forget Martin had a cameo in that too. After Sherlock and The Hobbit films have boosted his profile, you can bet he'll have a considerably bigger part to play this time around. See if you can spot him:
http://www.youtube.com/watch?feature=player_embedded&v=ZrZUGV__EJk#t=115s
The World's End is currently due for release in August 2013.
Read More
Filed Under: