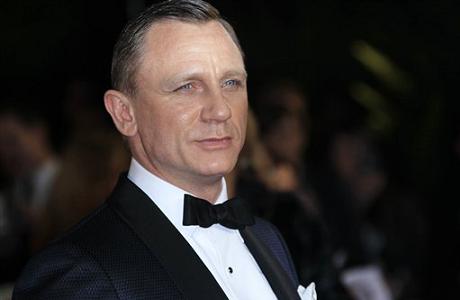 For 50 years, the film adaptations of Ian Fleming's Bond books have helped cement the U.K.'s reputation as a suave, chic land. Alas, it doesn't take an undercover investigation by MI6 to reveal that the reality is a bit different. If anyone has ever tried to sell you on the following Brit falsehoods, don't believe a word of it.  
1. We're sophisticated drinkers
The notion that a British man would order a classy cocktail like Bond's signature martini and have specific requirements for its assembly is laughable. Most are happy so long as their tipple is wet and contains somewhere north of 3.5 percent alcohol. Incidentally, a British bloke's idea of boozy refinement is ordering the second least expensive wine on the menu.
2. We all have sexy accents
Sean Connery and Daniel Craig's delicious inflections might make Americans shudder with pleasure but most Brits are lumbered with woefully unerotic accents. There are cities in the UK whose population speak in a way that Yanks might find curious or endearing but never beddable.  
3. We introduce ourselves surname first
The name's Margolis: Ruth Margolis. This is the first and last time I will ever announce myself like this. It's really not a thing. However, you will find that certain sorts of British men (ex-public school boys mostly) still only ever refer to each other by their last names.
4. Our secret agents are hot and highly competent
Want to know what a British spy looks like? Zone in on the plainest person in the room. The swarthy, good-looking gentlemen depicted by Fleming wouldn't last five minutes undercover. But who would suspect the sweaty, anonymous pen pusher in the ill-fitting grey suit? And certainly these highly trained, facially unremarkable spooks would never ever leave important documents pertaining to terrorism on public transport. Or would they?
5. MI6 has fancy gadgets
As well as the zippy cars and beautiful women, Bond would have you believe that British spies have access to cutting-edge gizmos, from jet packs to submarines shaped like crocodiles. So it's disappointing to learn that in real life, the best we can do is stuff a recording device in a fake rock.
6. Our men folk wear tuxedos to casinos
The average British male would rather stick forks in his thighs than don a tux and attempt to fasten a real bowtie. Few would wear one voluntarily and never to somewhere they're likely to gamble away that month's paycheck. They might reluctantly hire an ill-fitting, mothball-smelling penguin suit if an invitation insisted or their girlfriend made them.
7. British men are lusted after by exotic beauties
He's an impossibly handsome master spy with a cool car and six-pack that you can feel through his cummerbund, but clearly it's Bond's inherently sexy Britishness that lures the ladies. I suspect many a lesser Brit specimen has tried to bed a pretty foreigner using only his Sean Connery impression and failed miserably.
Do you agree with these myth-busters?
Read More
Filed Under: