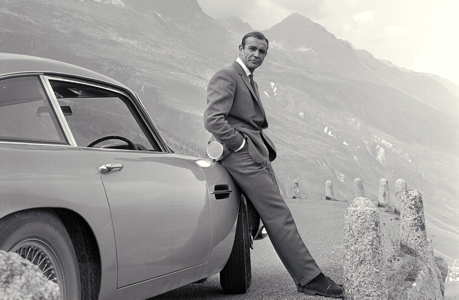 He may not look it, but James Bond turns 50 today (October 5). Next thing you know, he'll be using a jet-propelled walker.
Well, at least the movie version of Agent 007 hits the half century mark. Dr. No, the first official movie based on Ian Fleming's series of novels about the debonair British super spy, had its London premiere on Oct. 5, 1962. In the film, Scotsman Sean Connery showed off both brawn and brains as James Bond, a role he would play to perfection six more times.
To mark the 50th anniversary and in anticipation of Skyfall, the new Bond film opening November 9, Anglophenia will look sequentially over the next several weeks at each of the six actors who have introduced themselves on screen as "Bond. James Bond."
As a refresher, the six official 007s are, in order – a drum roll, please – Connery, George Lazenby, Roger Moore, Timothy Dalton, Pierce Brosnan and the current occupant, Daniel Craig.
Today, we're focusing on Connery. Born in Edinburgh, the 82-year-old actor is the son of working class parents. He held a variety of jobs (including milk man, truck driver and artist's model) before deciding to become an actor, a career choice he opted for after earning extra money helping out backstage at a local theater.
Connery had become interested in body building when he was 18 and his muscled physique, along with his 6 ft. 2 in. height, stood him in good stead in landing theatrical roles and, by the late 1950s, roles in movies. His most notable pre-Bond film role, if only because he attempted to sing, was in a Disney film called Darby O'Gill and the Little People (1959).
His major break came when he was cast as James Bond in Dr. No, thanks in large part, the story goes, to Dana Broccoli, who persuaded her husband, Bond producer Albert "Cubby" Broccoli, that Connery was the perfect mix of suave, sexy, smart and strong. In short, he was James Bond (even if he did have to wear a toupee to play the role).
Dr. No was an instant hit and Connery a major star. Bosley Crowther, reviewing the film in the New York Times, said that Connery as Bond "keeps on being natty, naughty and nifty to the end."
Connery followed up as Bond in From Russia With Love (1963), Goldfinger (1964), Thunderball (1965) and You Only Live Twice (1967). He then announced that he'd had it with the Bond role only to come back – after Australian actor George Lazenby had played 007 in On Her Majesty's Secret Service (1969) – for Diamonds Are Forever (1971).
He renounced the role yet again (this time Brit Roger Moore took over), but reprised it one last time in the self-consciously ironically titled Never Say Never Again (1983).
For some, there will never be another Bond better bonded to the role than Connery. He was the first and many still consider him the best Bond. He put his stamp on the role; he was the first to utter, "Bond. James Bond," the first to flirt with every woman he met, the first to crack wise at a villain before dispatching him, the first to shake rather than stir his martinis, and the list just goes on.
What distinguishes Connery's Bond, besides the fact that he was Numero Uno, is the sheer physicality and sense of near-bullheadedness he brought to the role. His Bond will not be denied. He can be smooth and sophisticated if necessary but it was always clear that, underneath, there lurks a sinewy lion ready to pounce and tear its prey to pieces.
Connery, whose long and distinguished career beyond Bond includes notable roles in such popular films as The Man Who Would Be King (1975), Indiana Jones and the Last Crusade (1989) and The Rock (1996), won an Academy Award for Best Supporting Actor for playing a tough police detective in The Untouchables (1987). His last major role was in The League of Extraordinary Gentlemen (2003) and he is now officially retired.
Although he spent years trying hard to escape his image as James Bond, Connery has long since accepted that he and the role are inextricably linked. As he once said, "It's with me 'til I go in the box."
——————————-    
If Connery is your favorite James Bond, tell us why.
——————————-
Read More
Filed Under: