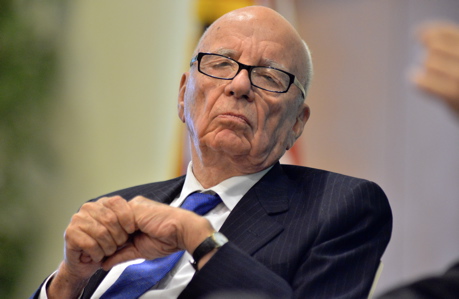 Who needs News of the World when you have Twitter?
Perhaps that's the way Rupert Murdoch looks at things, since the hacking scandal forced his company News International to close the British tabloid last year.
Twitter apparently gives the world's most famous yellow journalist the thrill of writing what are, in essence, provocative 140-character headlines, without the bother of paying for private eyes or breaking into peoples' voice mails.
Since the 81-year-old media mogul signed up for a Twitter account last year, he's generated his own headlines in mini-rants (twants?) on topics ranging from Tom Cruise and Scientology to politics. But a tweet he sent out last weekend may finally cause his handlers to pry Murdoch's fingers away from the keyboard for good.
After hearing that Prime Minister David Cameron met with members of the anti-hacking group Hacked Off, including singer Charlotte Church and former police officer Jacqui Hames, Murdoch sent out a tweet terming them "scumbag celebrities." He also complained about "toffs," British slang for members of the upper classes, and suggested that they are setting back the cause of free speech.
Told UK's Cameron receiving scumbag celebrities pushing for even more privacy laws. Trust the toffs! Transparency under attack. Bad.

— Rupert Murdoch (@rupertmurdoch) October 13, 2012
Murdoch's comments ignited a firestorm in the Twittersphere.
One tweeter named nm sent a strongly critical message, complete with an expletive, back to Murdoch: "'Scumbags'? And your journalists and executives are what? You are abso;utely f***ing pathetic." Even after the f-bomb was dropped on the "pathetic" media billionaire, Murdoch bravely, but perhaps foolishly, replied that his staffers "don't get arrested for indecency on major LA highways! Or abandon love child's."
Tweeters had a field day with Murdoch's argument ("but hacking a dead kid's voicemails is OK? Your world is a strange place…" wrote phillipoconnor) and with his grammar ("the real scandal here is that the head of a news empire can't pluralise the world 'child'," wrote kenjonnard.)
Hacked Off called on Murdoch to apologize, while others on Twitter had already given Murdoch opportunities to take back or soften his remarks, which he started to do in this Twitter conversation. Sort of.
@PolProfSteve Sorry, you are right. Sometimes too angry.

— Rupert Murdoch (@rupertmurdoch) October 14, 2012
Jacqui Hames and Murdoch engaged in this slightly surreal exchange:
@jacquihames not referring to these ladies.

— Rupert Murdoch (@rupertmurdoch) October 14, 2012
Murdoch appeared to be unaware that he was addressing the very same "ladies" that he was supposedly not referring to and that they were indeed the "scumbag celebrities" of his first tweet. There's really little room for interpreting his original comment as being aimed at anyone else, although the intended target of the part of the tweet in which he complained about the "toffs" is open to interpretation. Was he referring to Prime Minister Cameron, or to the "scumbag" celebrities that his tabloid hacked? It hardly matters, though it's perhaps revealing that the rich and powerful Murdoch presents himself as a warrior against social privilege in this context. Exposing the private lives of Hugh Grant and Sienna Miller just doesn't cut it as a crusade for social justice. It's also interesting that Murdoch chose to try to insert the issue of class into the affair, where it would appear to be largely irrelevant, or, if anything, to work against him.
Later, Murdoch tweeted that he was never speaking about anyone specifically to begin with. "I never referred to any particular people, just some 'dodgy' self promoting celebrities. Repeat apology for language," he wrote.
Church responded:
@rupertmurdoch What do you mean by 'dodgy'? My understanding of the word is 'lacking legitimacy', a term that befits NI before me or J.Hames

— Charlotte Church (@charlottechurch) October 15, 2012
So there you have it, Rupert Murdoch's apology to people who were hacked by his own newspaper: Sorry I called you scumbags – I just meant to say that you're dodgy and self-promoting.
The dramatic turnaround in Murdoch's stated views of the hacking scandal did not go unnoticed. In July 2011, when he appeared before a parliamentary committee, he said the invasions of privacy perpetrated by his newspaper were "sickening and horrible" and expressed his desire to apologize for them, though he famously refused to accept personal responsibility. At the time, he said appearing before the inquiry was "the most humble day of my life."
https://twitter.com/DavidAllenGreen/status/257825488645521408
Read More
Filed Under: