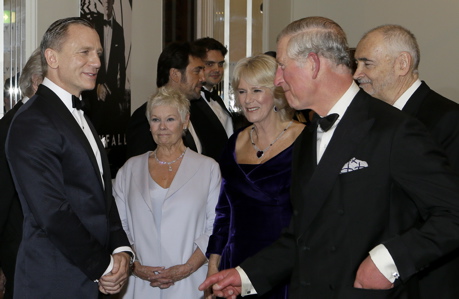 Giving and attending parties are what royals do, and this week they did a lot of it indeed.
The Prince of Wales and the Duchess of Cornwall gave a formal dinner party on Wednesday night in advance of their Diamond Jubilee trip to Australia, New Zealand and Papua New Guinea next month. Aussie Kylie Minogue showed up for a surprise performance, after tweeting, "One is on one's way to St James Palace," and crooned three songs.
"Bon voyage, have a fantastic trip," the singer told the royal couple.
After singing "Locomotion," "On a Night Like This" and "I Believe in You," Minogue chatted with Charles and Camilla. After Camilla offered up that she'd never been to Australia, Minogue jokingly called her a "naughty duchess."
Later, reported the Telegraph, Minogue said the party was "terrifying but great." Her hosts apparently didn't find it terrifying in the least, just great, or "brilliant," as Clarence House put it in a tweet:
A brilliant performance from @kylieminogue tonight as part of the reception hosted by The Prince and Duchess ahead of the tour #wowwowwowwow

— Clarence House (@ClarenceHouse) October 24, 2012
• The night before, on Tuesday, the future King of England of England and his wife palled around with James Bond, aka Daniel Craig, and M, Judi Dench, at the world premiere of Skyfall at the Royal Albert Hall. Money raised at the event went to three of Britain's intelligence and security services, of which Charles is a patron.
• Meanwhile on Tuesday night, the Queen and Prince Philip hosted a reception at Buckingham Palace for Olympic and Paralympic athletes. Among the other royals in attendance were the Duchess of Cambridge, the Duke of York, Princess Anne, Prince Edward and his wife, Sophie, Countess of Wessex.
Some of the athletes were a bit overwhelmed, reported the Telegraph.
Wheelchair racer Hannah Cockroft was "scared" as she waited to meet the Queen.
"I was told not to talk first so I just sat there smiling at her," Cockroft said. "I probably looked a bit of a numpty, but that was alright because she is a nice lady – can you say that about the Queen?"
Above all, she was encouraged by Her Majesty.
"It does just finish the Games off nicely," the athlete said. "If you know that the top lady in Britain is proud of you, then you must have done pretty good."
Cyclist Jason Kenny was pleased to meet the Duchess of Cambridge, but couldn't remember anything she said.
"It is amazing," he said, "and it is something that does not happen every day – that is for sure. Everything is a bit of a blur. I was a bit nervous."
On the other hand, paralympic equestrian Lee Pearson attempted to assuage Kate's fears about horseback riding. The ten-time gold medalist said the Duchess told him that she's taken up riding but is concerned about her allergies to horses. Pearson admitted that he, too, is allergic, but that "antihistamines are wonderful." He also said he offered her dressage lessons.
• Party was an operative word for Kate's little sister, Pippa, over the past few days. Her book, Celebrate, is about throwing parties, and its UK publication was marked this week with launch and bookstore parties.  (Of course, parties run in the Middleton family: Pippa's and Kate's parents run a party planning company.) On Thursday, fashion-watchers observed at least four wardrobe changes by the 29-year-old author, as she bounced from event to event.
Princesses Eugenie and Beatrice were among the guests at Pippa's book party at Loulou's, an exclusive Mayfair club. "There was no sign of big sister Kate, who cannot be seen to be endorsing any commercial ventures," reported the Daily Mail.
• There was another royal wedding last weekend, only this time it was in Luxembourg, where the small country's Crown Prince Guillaume married Stephanie de Lannoy, a Belgian countess. Prince Edward and Sophie represented the UK at the festivities. According to BBC News, the wedding dress is said to have taken 3,200 hours to make.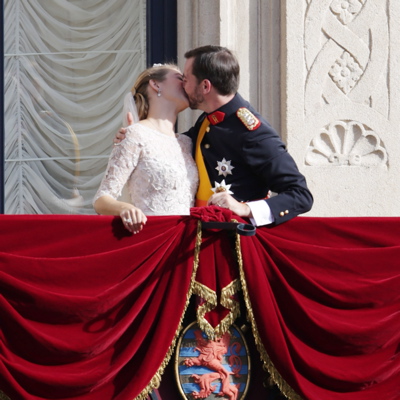 • Our friend Kelly Lynch at Socialite Life's Duchess Diary offered her take on royal fashion decisions throughout the week, beginning with the wedding in Luxembourg:
• And, finally, speaking of weddings and royals, Kelly spoke to author Megan Mulry, who brings her own new book, A Royal Pain, to the party. The first in a planned series of women's novels about contemporary Americans marrying British royalty, Mulry's story is about a young woman who unwittingly meets a duke while he's attending graduate school in Chicago. Take one guess where Mulry got her inspiration:
Read More
Filed Under: