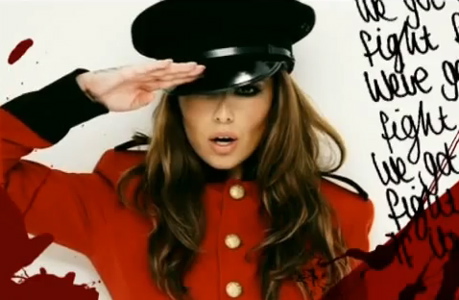 Cheryl Cole's new book is called My Story, but in it, she reveals a story about the Duchess of Cambridge: apparently, Kate does a spot-on Cole imitation.
Cole says that at Kate's bachelorette, or "hen," party, the soon-to-be Duchess dressed up as the singer in mock-military outfit and sang Cole's hit single, "Fight for this Love."
"She even learned the dance routine and was step perfect by all accounts," writes Cole.
How did she know, even though she wasn't at the hen party?
Well, Cole did attend a party for the Diamond Jubilee concert in June, and says Will and Kate told her all about it.
"Did you know you've got a bit of competition?" Cole quotes Will as saying to her.
"Wills looked at Kate and they both started laughing," the singer writes, "before Kate confessed that she dressed up as me on her hen night."
She says Kate's sister Pippa and brother James confirmed that the performance was first-rate. (via The Telegraph)
In other royal-related news:
• Our friend Kelly Lynch at Socialite Life's Duchess Diary took a look at the Duchess's busy schedule last week. Kate made a solo visit to England's North East region, while William went to the funeral of his former nanny, Olga Powell.
But first, Kelly took a look at a highly unusual event: the announcement of an officially sanctioned publication of a book by a member of the Queen's staff. The book is being written by Angela Kelly, Elizabeth's personal dresser.
Kelly also had an update on the week in Catherine's fashion, as she transitions to a fall wardrobe:
• If you have trouble keeping up with Kate's fashions, and you can't wait for the next installment of the Duchess Diary, there is, as they say, an app for that. It's called Kate's Style List, and it costs £.69 ($1.10) for iPhones. "The app," says Vogue UK, "is apparently proving particularly popular in the U.S."
• ArtLyst, the London art and gallery website, has put the Duchess of Cambridge on its "PowerLyst," a ranking of "movers and shakers" in the art world. Kate came in at No. 8.
The website said the Duchess's support of the National Portrait Gallery "proved its weight in gold" and praised her "more unusual choice" to be a patron for the Art Room childrens' charity.
Others on the list include Russian feminist band Pussy Riot, which was No. 1, Chinese dissident artist Ai Weiwei (No. 6), activist/artist Yoko Ono (No. 12) and actor James Franco (No. 14). For a list of the top 20, click here.
Read More
Filed Under: