With BBC AMERICA's new cooking competition series Chef Race: U.K. vs. U.S. pitting American chefs against Brits, we here at Anglophenia find it hard to pick sides. But let us attempt to broker a momentary truce between our warring nations with some British interpretations of our American culinary favorites, via our friends across the pond at BBC Good Food. (Download their free app on iTunes for more where this came from.)
Introducing hot dogs with a hearty, seasonal, and ever-so-British flair: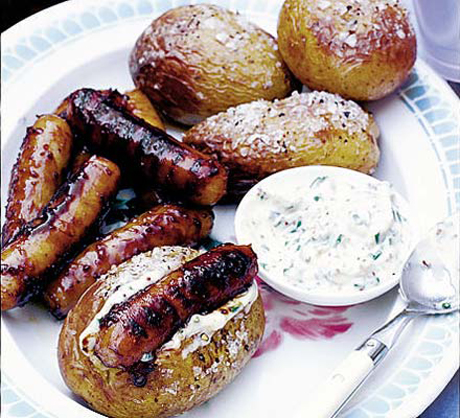 Sticky hot dog jackets – recipe by Sara Buenfeld
Serves 4
Prep 15 mins
Cook 1 hr
INGREDIENTS
4 baking potatoes, each weighing about 225g/8oz
olive oil for brushing
FOR THE SAUSAGES AND GLAZE
2 tbsp maple syrup or clear honey
1 tbsp balsamic vinegar
2 tsp wholegrain mustard
1 tsp tomato purée
8 pork sausages
FOR THE MAYO
8 tbsp mayonnaise
2 tsp wholegrain mustard
3 tbsp snipped chives or finely chopped spring onion

METHOD
1. Rub the potatoes with a little oil, then sprinkle generously with salt (preferably flakes) and black pepper. Wrap each one in double-thickness foil and cook on the barbecue for 1 hour, turning frequently, until cooked. Or bake unwrapped in the oven at fan 180C/ conventional 200C/gas 6 (convection 350F/ conventional 400F) for the same amount of time.
2. Mix the maple syrup, vinegar, mustard and tomato purée to make a glaze. Brush over the sausages and cook on the barbecue, turning and basting often, for 10 minutes until cooked and sticky. Meanwhile, mix the mayo ingredients in a small bowl.
3. Unwrap the potatoes and split down the middle. Add mayo and sausages (like a hot dog). Serve with a leafy salad.
740 kcalories, protein 19g, carbohydrate 56g, fat 50 g, saturated fat 13g, fiber 4g, salt 3.49 g
Chef Race: U.K. vs. U.S. premieres Tuesday, October 2 at 9/8c.
Thoughts on this recipe? Tell us below:
Read More
Filed Under: