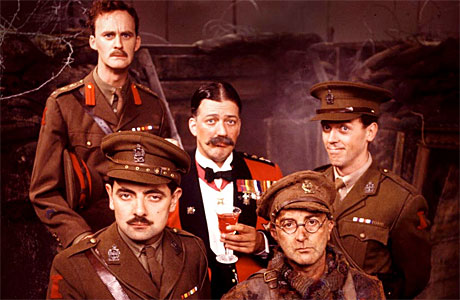 The Blackadder TV series (Season 1 notwithstanding) is one of the best-regarded British comedies to have ever been made. This is partly because it played host to the comic talents of Rowan Atkinson, Stephen Fry, Hugh Laurie, Tony Robinson, Miranda Richardson, Tim McInerney, Rik Mayall, Adrian Edmonson and the woman who played Nursey; partly because of the witty scripts, in which ancient British history is given a thoroughly modern duffing up by Ben Elton and Richard Curtis, but mostly because it shows the British as they most often like to be shown: devious, manipulative and ultimately quite selfish, but witty with it.
And now, in a new book about the history of the show, it appears there was an attempt to make a Christmas special in which the familiar characters – Edmund Blackadder, Baldrick et al  – appear as innkeepers in the story of the Nativity.
The True History of the Blackadder: The Unadulterated Tale of the Creation of a Comedy Legend is the (frankly rather long) title of the book, written by the historian J. F. Roberts. He was amazed, while conducting an interview with Richard Curtis, to be handed the printout of an unfinished script from 1988, entitled Blackadder in Bethlehem.
He told BBC News: "When you write a book about a comedy world, there is a dream that you'll be invited into this Ali Baba's cave of unbelievable archive material. I always presumed that would never be the case with Blackadder."
"He printed out a document from his computer and said, 'see what you want to do with this'. My jaw dropped when I saw I was holding a lost Blackadder script.
"He wrote on the script that one of the reasons it didn't get used was because it was a strange cross between Fawlty Towers and Life of Brian."
"He didn't think he was going to make it compare to either of them. That's his reason for it never getting any further than it did."
And in the end, the Christmas special they did make, Blackadder's Christmas Carol, was based on Charles Dickens, rather than the Bible. Here's an excerpt:
http://www.youtube.com/watch?v=xJX8coNc2J8
And yes, Doctor Who fans, that IS Nicola Bryant as the shrieky God-daughter.
Read More
Filed Under: