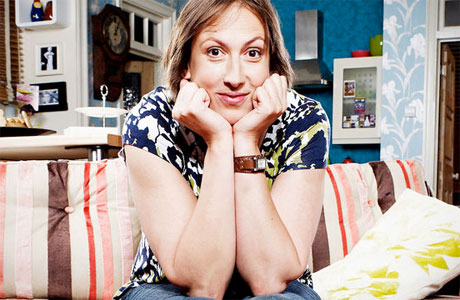 It seems like BAFTA-nominated comedienne Miranda Hart is everywhere these days. This past Friday BBC America talked about her newly released self-help autobiography Is It Just Me?; she stars in BBC's well-received period drama Call the Midwife currently airing on PBS; and a real deal claim-to-fame, she was spotted on the red carpet with the likes of Daniel Craig and Dame Judy Dench for the World Royal Premiere of Skyfall just last night. She's made it!
Alright, are you caught up? Now, she's talking about a possible movie based on her real-life antics. It's definitely in the early stages but she told BBC's Breakfast that she has "had a meeting." Ooooh, a meeting. It's more than nothing. We hope this does happen. Everything she touches turns to comic gold. The conversation isn't strictly shop talk, Hart gets into having bog roll (toilet paper) stuck in the back of her pants that trailed through an entire restaurant. Hence, the aptly named title of her book Is It Just Me?
If Miranda Hart is new to you, then this YouTube video We Love Miranda Hart will speed you up on her hilarious BBC sitcom simply called Miranda. Her character is amazingly awkward but undeniably confident.
Is it just her? Or, have you had these "you had to be there" moments?
Read More
Filed Under: