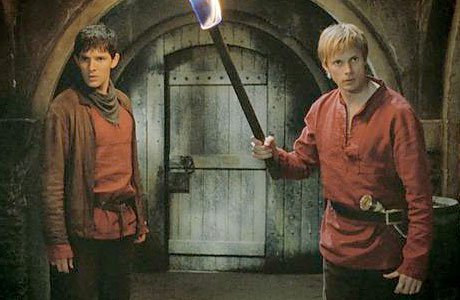 Forgive us this post, which will probably be quite frustrating to US Merlin fans, but over here in the UK, we're gearing up for the start of Season Five of Merlin, which means the cast are doing interviews and photoshoots and all sorts, and it would be remiss of us not to at least tell you where these things are, should you wish to go and look.
So, to start at the very beginning, here's the current trailer:
• Radio Times has four of the principal players (youth division) photographed together in modern clothes. It would be sacrilege if it wasn't quite so stylish.
• Meanwhile, the grown-up division, represented by Richard Wilson, has been battling off rabid Merlin fans, who have taken to dressing up in medieval garb, just to try and blag their way onto the set. Richard told Bang Showbiz: "I have never experienced anything like it. We have had fans staying in the same hotel as us and calling our rooms.
"I met one young girl who was a university student and she had come from China to see us. But the most extreme are the ones who dress up in costumes and try to come on set. Thankfully, we can spot them."
• SFX have been off filming interviews with various members of the cast, but not before getting a few minutes with Bradley James and Colin Morgan for the magazine. When asked how thing's are different since the last series ended, Colin said: "Things are serious. There's stuff happening up North in the frozen lands. The big thing is there's a three-year gap, so immediately you see Camelot in a different state, one that [Arthur's] wanting it to be, and Merlin finds his place in that as well. There's definitely a maturing in general of the whole series, but the banter's still there between the two characters because that's who they'll always be, even though their situations are a lot more serious."
Bradley added: "The one point to pick up on purely from my character's point of view is we've got a lot closer to the Camelot Arthur's been trying to achieve, and having got there it's now under threat."
• Here's SFX talking to Angel Coulby (Guinevere) and Katie McGrath (Morgana)…
• And here are Eoin Macken (Sir Gwaine) and Rupert Young (Sir Leon)…
• They also have some pretty delightful behind-the-scenes shots, including snow and fluffy toy animals.
There, wasn't so painful after all, right? Right?
Read More
Filed Under: