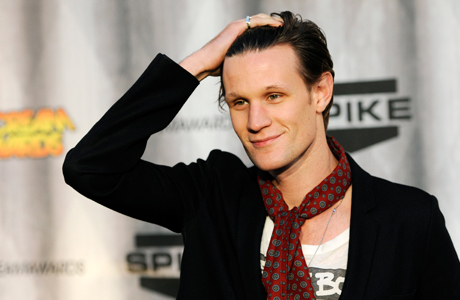 It was Matt Smith's 30th birthday this past Sunday! And to celebrate, the Doctor Who cast and crew donned Matt masks and surprised the birthday boy with a TARDIS cake. Watch his reaction here!
• We naturally ran our own tribute, picking out 30 of the most notable characteristics/magic moments of his stint as the Doctor.
• Speaking of the birthday boy, Matt was interviewed on BBC Radio 1 this week, and revealed a startling idea for a TV crossover. He told Fearne Cotton: "I've been loving Breaking Bad… I'd love the Doctor to meet Heisenberg in Breaking Bad. Breaking Bad flips your world upside down."
• Matt was also interviewed by Den of Geek, who of course asked him exactly how immersed he is in the past history of the show, and general Whovian lore. Turns out, he's VERY immersed: "As soon as I got the job, I went through tonnes and tonnes – I got them to send me pretty much every episode that I could get my hands on. So I went through Troughton, Pertwee, Baker, a bit of Hartnell… So I've dipped in. I hate to say, I've never watched really any Colin Baker episodes.
"My first Doctor, and I told him this, was David [Tennant]. I did it the wrong way round! I watched all of David's stuff and all of Chris's stuff, and then I went backwards… I was always aware of Doctor Who, but I didn't grow up with it."
• The Big Bang Theory made yet another Doctor Who reference in their latest episode:
http://www.youtube.com/watch?v=Ww2GDq2Ev78
• The traditional Christmas Special teaser trailer/mini episode that airs as part of the BBC's telethon Children In Need will be shown on British screens on November 16th. This year's festive Who will be the one that properly introduces Jenna-Louise Coleman as the Doctor's newest traveling companion, after her sterling turn in "Asylum of the Daleks." Naturally we'll post the video as soon as we can.
• Remember when Karen Gillan made her first appearance on Conan last month? She also sat down with the Team Coco podcast to discuss getting accustomed to the LA scene, her fear of moths, similarities between Scotland and Alabama.
• Former Doctor Who showrunner Russell T Davies talks to the Telegraph about his new children's show Wizards Vs Aliens, coming out this week in the UK. He describes it as "Harry Potter meets Doctor Who," stating, "You know, the Doctor doesn't cast a spell, and Harry Potter's never going to pick up a laser. Though it would be marvelous if he did. It's fun, it's exciting – it's got a lovely sense of friendship at the heart of it, that's my favorite thing about it."
• It's the most pressing question for Whovians of all stripes: How Dalek-y are you? And thankfully, we've come up with a personality quiz that helps you answer it without having to resort to diabolical plans.
• Does the technology for making a real-life sonic screwdriver exist? Techfeed finds out in their series "Fact or Fictional":
And finally, because it's Halloween this week, the Doctor Who tumblr has been collecting Whovian pumpkin art for us. Here are the details:
Got it? Good. Here's what we've got so far…
TTFN!
Read More
Filed Under: