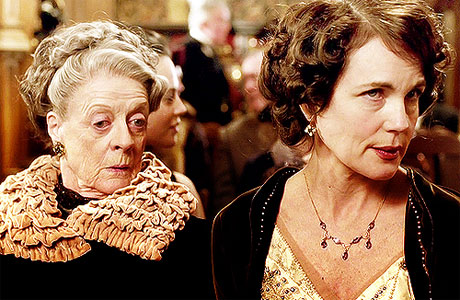 You wouldn't think product placement would work in a costume drama, given that most of the firms able to advertise their olden-days products must have either gone out of business or moved with the times, but then Downton Abbey has never been just another costume drama.
*spoiler alert*
In a recent episode (in the UK, due to air in the US in the new year), Violet Crawley, the Dowager Countess of Grantham (played by Dame Maggie Smith) is having a discussion with Cora Crawley (Elizabeth McGovern) about underwear, specifically the correct underwear for Lady Edith (Laura Carmichael) to wear at her wedding.
She says Lady Edith would "pay for a Patou," but Cora bats that suggestion asides, saying: "They will go for a Lucile as they wouldn't want her to look like a chorus girl."
Now, a little background info: Lucile haute couture was set up in 1890, by the pioneering British designer Lady Duff Gordon. The brand reached an apex of influence around the roaring 20s, but  continues to this day, run by Lady Gordon's great-granddaughter, and as a result of this ringing TV endorsement, Lucile has reported a huge sales increase – almost 50% – and a ton of new hits to their website too.
Whether this means future episodes will see the staff below stairs chugging down a vintage Coca-Cola remains to be seen. But let's hope not.
Read More
Filed Under: