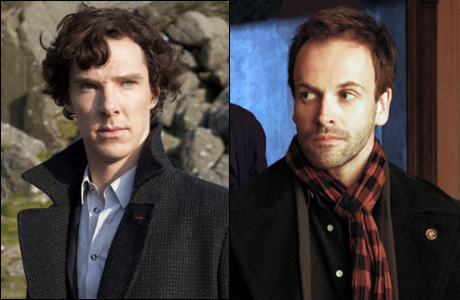 There are apparently no bad blood between Benedict Cumberbatch and Jonny Lee Miller over their dueling Sherlock Holmes. Miller, star of CBS' New York-set fall series Elementary, told Britain's Metro: "I love the work that Benedict has done with Sherlock. I would call him up, like a groupie, after every episode came out, wanting to talk to him about it. And we had a discussion about this project as well."
Miller told The Mirror: "Benedict has been very, very supportive, and, you know, I wanted to reassure him about how different this script was and project was.
"We get to show a whole new side to him.
"At the end of the day, these are just television shows. Is there room on planet earth for another Sherlock Holmes? Yes, I think there probably is. It has been being made for close to 100 years."
Cumberbatch and Miller know each other well, of course: they did a much-beloved production of Frankenstein last year, trading the parts of Frankenstein and his monster. But Cumberbatch, Emmy-nominated star of Masterpiece's Sherlock, stirred up a bit of controversy with his comments to Shorlist, in which he declared he was "cynical" about why Elementary was launched.
Meanwhile, Elementary has performed well for CBS: for its October 18 episode, it scored nearly 11 million viewers and 2.3 18-49 rating. And it's doing well among DVR viewers.
Now that a few episodes of Elementary have aired, how do you think Jonny Lee Miller is doing as Sherlock?
Read More
Filed Under: