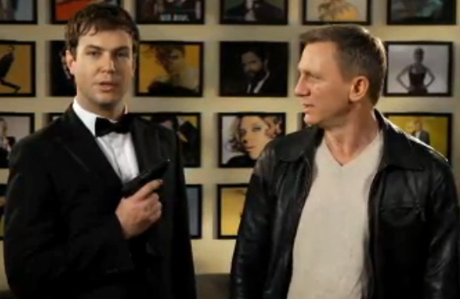 As manufactured holidays go, Global James Bond Day seems pretty cool to us. If you haven't figured out how to celebrate Friday's 50th anniversary of the release of Dr. No yet, there's still plenty of time.
It looks as though Daniel Craig will be observing the day on Saturday, in New York, when he hosts Saturday Night Live. Craig did a series of amusing promos with SNL's Taran Killam:
• You'll be able to celebrate Bond's birthday with the full version of Adele's Skyfall song, which will be released on Adele's website at, appropriately, 0:07 London time on Friday morning – that's 7 minutes after midnight there, but in just a few hours here in the U.S.
A leaked excerpt appeared online Tuesday, and in most cases, was taken down shortly thereafter, but the minute-and-a-half was enough to win over 007 music enthusiasts.
"Adele's song is very definitely reflective and mournful," Ajay Chowdhury of the James Bond International Fan Club told the Press Association. "It's a beautiful ballad that promises to become a Bondian classic."
Chowdhury said: "Bond fans are in for an aural treat."
• Continuing on the musical theme, the Academy of Motion Pictures Arts and Sciences is hosting a "Music of Bond"  tomorrow night at the Sam Goldwyn Theater in Los Angeles. Among those present will be several Bond music creators, among them Carole Bayer Sager ("Nobody Does It Better" from The Spy Who Loved Me), lyricist Don Black (title songs for Thunderball, Diamonds Are Forever, The Man with the Golden Gun and The World Is Not Enough) and Vic Flick, the guitarist for the original Bond theme.
• Christie's in London will be holding a much-touted auction, at which you could buy the 2008 Aston Martin DBS used by Daniel Craig in Quantum of Solace. It's listed at £120,000 – £170,000 ($160,000 – $230,000). You could also buy the La Perla bathing suit that Craig wore in Casino Royale, estimated to go for £3,000 – £5,000 ($4,800 – $8,000).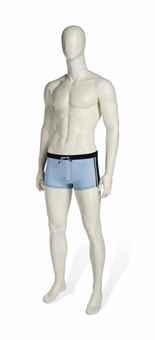 Can't make it to London tomorrow? No problem. Christie's has an online auction that started last week that will run through October 8, and there are tons of interesting 007 items to be had there. But don't think that just because it's online that it's cheap. It's Christie's, not eBay, and lots of items are already going for way more than their original estimates. A movie-set clapperboard and director's chair used by Pierce Brosnan during the filming of GoldenEye that was originally given a high estimate of £1,200 ($1,900) is now going for £3,500 ($5,600). Enamel cufflinks worn by Topol in For Your Eyes Only and a poster for the film are going for £4,200 ($6800) when the original high bid was thought to be £1500 ($2,400).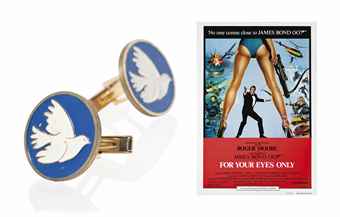 A fiberglass shotgun and prop suction cups from You Only Live Twice were estimated to go to, on the high side, for £2,500 ($4000) – they're now at £10,000 ($16,000).
• One way of celebrating 007's big 5-0 would be to watch all 22 of the movies. And if you're in the New York City area, you can do that at one of the most prestigious movie venues in the world: starting Friday and continuing through October 31, the Museum of Modern Art will show its complete collection all of the EON-produced Bond films. In 1987, to mark the 25th anniversary of Dr. No, producer Albert "Cubby" Broccoli donated prints of the 14 movies up to that time; after his death, his daughter Barbara and producing partner Michael Wilson have donated the rest.
• You don't live in New York? Again, location is not a problem. All 22 films have just been released in a new Bond 50 box set on Blu-ray and DVD. In addition to the movies and special features, there's also a Skyfall preview disc with new documentaries and videoblogs.
My Bond 50 came in the mail a few days ago, and including all the extras, my rough calculation puts the screening time for everything at more than 150 hours. Or in other words, if I spend eight hours a day watching Bond 50 it would still take me more than two and a half weeks to get through it all. (Sounds like a plan.) And of course, that's not including the "unofficial" Bond movies, 1983's rogue Sean Connery vehicle Never Say Never Again and the 1967 all-star comedy Casino Royale, which are not included in the set, since they weren't produced by EON.
• The name of Broccoli's production company, EON, comes from the initials for the phrase "Everything or Nothing," which also happens to be the name of a documentary about Bond premiering tomorrow. Everything or Nothing: The Untold Story of 007 covers topics ranging from the impact of JFK's love of the Fleming books to the schism between Broccoli and Sean Connery. "There's almost too much meat here for a single serving," Variety wrote this morning. In an advance clip, George Lazenby, who had never acted in a movie before, describes how he got the job as the second James Bond:
Everything or Nothing is premiering in movie theaters around the world tomorrow. Bond fans in the U.S. can watch it on EPIX tomorrow at 8pm ET. The HD channel is also featuring "24 007," a day-long Bond movie marathon.
Read More
Filed Under: