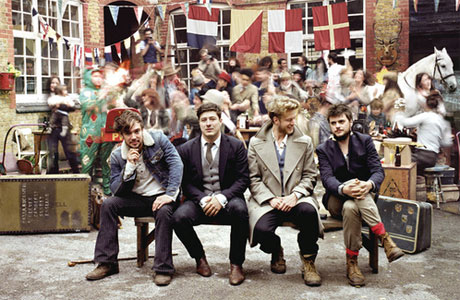 So, over here in the UK, "Babel" by Mumford and Sons, their second album, has become the fastest-selling album of the year so far. This we could have expected, given the ravenous appetite that exists over here for their confessional bluegrassy stomp-folk, but over there, where you are, where people play actual bluegrass quite a lot, it doesn't pay to get too cocky.
Which makes the first week US sales of "Babel" all the more remarkable. According to Nielsen Soundscan, the Mumfs sold over 600,000 copies in order to take their first Billboard No.1 (and the first No.1 for their US record label, Glassnote).
To put that into context, Justin Bieber's "Believe," which had been the fastest-selling album of the year until now, sold a relatively paltry 374,000 copies in its first week. Also, 420,000 of those copies were sold digitally, giving "Babel" the second largest sales week in digital download history.
The interesting thing is that the album with the biggest sales week in digital download history is also by a Brit, and also achieved the feat this year. Adele's "21" sold 720,000 copies in the week following her astonishing turn at the 2012 Grammy Awards.
Here are the Mumfs, who appeared last night on the BBC music show Later… With Jools Holland.
http://www.youtube.com/watch?v=4mso7ubdkj4
Nice that they made such an effort to dress up for the TV, eh?
Read More
Filed Under: