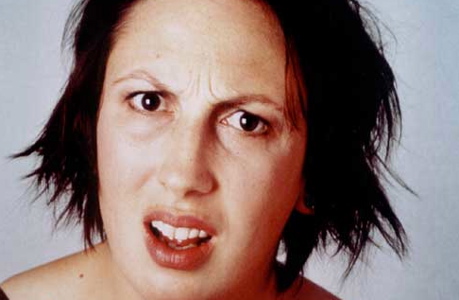 Funny woman Miranda Hart is bringing her signature pratfalls to the printed page.
She has just published her first book, a humorous self-help guide called Is It Just Me? It began selling in UK bookstores late last week.
To mark the occasion, Hart donned a party hat for a celebratory video released by her publisher, Hodder & Stoughton:
http://www.youtube.com/watch?v=lu4dpAmMMmg
The 39-year-old comic star is newly popular in the U.S. thanks to her standout role as an upper class, bicycle-riding midwife, Camilla "Chummy" Cholomondely-Browne, in Call the Midwife. The BBC  drama series began airing on PBS last month.
[Miranda Hart in Call the Midwife (she arrives at 1:04):
Hart has jokingly called her how-to book a "Miran-ual." In it, she provides readers with illustrative stories of embarrassing moments from her own past and offers tips on how others may avoid finding themselves in similar situations.
"I'm talking how to cope with being mistaken for a pregnant lady on the bus when all you're really carrying is a second helping-of-pie-and-mash baby. Not that that has ever happened to me. (It has.)" she writes. "I'm talking not feeling awkward having a massage; I'm talking how to use chopsticks with grace. The real coalface of life. I'm not sure I'll have all the answers to these conundrums. But I'm practically an expert having made every mistake going, and it will be a pleasure simply to get these weighty issues off my chest. Or issues off my weighty chest. Either works."
Hart rose to fame with early appearances on such TV comedies as Smack the Pony, Absolutely Fabulous and Not Going Out. In addition to her current role in Call the Midwife – the show's second season resumes filming next month in London – she also stars in Miranda, an eponymous sitcom the will begin its third season on the BBC in the UK.
While the hardback version of her book is not yet available on this side of the Atlantic, an e-book version is for sale at Amazon.com. It costs $9.99 and includes audio and video clips.
———————
Are you a Miranda Hart fan?
———————
Read More
Filed Under: