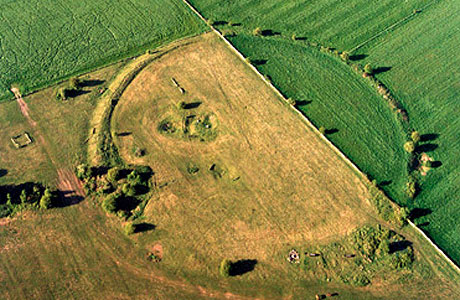 Oh dearie me. Oh dearie dearie me.
A retired plant-hire manager in Somerset has accidentally blundered into a massive row over the maintenance of priceless historical sites, when he brought in contractors to 'tidy up' the neolithic earthwork circle on his land, without realising the damage their work would cause.
Priddy Circles are a series of rings dug into the hillside in Priddy, North Somerset. They are of similar age to Stonehenge, having been constructed some 5,000 years ago, and as such, contain a wealth of information about Bronze Age life in Britain. English Heritage has them listed as a Scheduled Ancient Monument, which means no work can be undertaken on the site without their say-so.
On the south side of the Circles, Roger Penny bought a former hunt stables and house, with a plot of land that covered some of the most southerly circle. He hoped to renovate the buildings and let the land out, and instructed his contractors to tidy up the field with the circle in it. Now, it's clear that Roger was aware of the circle, and had left instructions that it was not to be touched. Trouble is, the contractors were not archeological experts, and some of the earthworks were hard to spot, so, with the best of intentions, they bulldozed their way into the centre of the circle, crushing the earthworks as they went. Then there were the "swallet" holes, part of the site, which they filled with rubble.
Let's pause for a second to catch our breath at this distressing news, shall we?
Ready to move on? OK…
English Heritage promptly issued court proceedings, and Mr Penny has now been ordered to pay a £10,000 fine, and make reparations to the site, estimated to cost some £38,000.
In court, Mr Maunder, prosecuting, said: "These circles are regarded as among a small group of the country's most important prehistoric monuments, with enormous potential to inform us about the Neolithic period, and in archaeological terms are internationally significant."
Recorder Jeremy Wright told Mr Penny: "Although the part you bought might not have been visually spectacular, common sense would have told you that the land inside the circle was also important. Your actions may have meant that significant archaeological information has been lost."
He also said it was "sad to see a man of your age and good character before the court."
For their part, English Heritage  added that the churning up of the earth meant that a "really, really rare piece of Neolithic engineering had been lost forever."
Mr Penny has agreed to pay for the reparations.
Read More
Filed Under: