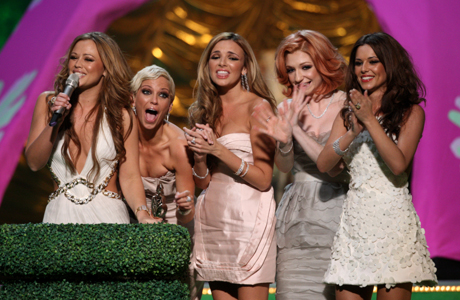 We love the Spice Girls as much as any Union Flag-waving Anglophile, but the girl band reunion that truly has our pulses racing is Girls Aloud's. A reality TV creation, they preceded One Direction by almost a decade, defied the odds, and put out stunning single after stunning single. We haven't heard from these ladies since 2009, when they released their divine "Untouchable" single and went on indefinite hiatus. But now they are back with "Something New," a ringing club banger that will, sadly and inevitably, make no inroads on the U.S. charts (oddly, given our nation's current obsession with electropop):
Not quite "The Promise" or "The Show," but it'll do for now.
However, our joy may be short-lived: Cheryl Cole has indicated that GA may disband for good after the release of a 10th anniversary greatest hits collection and a 2013 world tour.
After all, the band's members have all begun to establish themselves as individuals. Despite her ignominious axing from the American X Factor — a blessing in disguise indeed — Cole has become a bonafide pop star in Britain (whom even the Duchess of Cambridge adores and imitates). Nicola Roberts and Nadine Coyle have also released solo albums to varying degrees of critical and commercial success, and records from Sarah Harding and Kimberley Walsh are thought to be coming next year.
But one thing's for certain: like the Spice Girls before them, the deliriously fun and sexy Girls Aloud are, as a band, much greater than the sum of their beautiful parts.
Are you a GA fan? Why can't they seem to break America?
Read More
Filed Under: