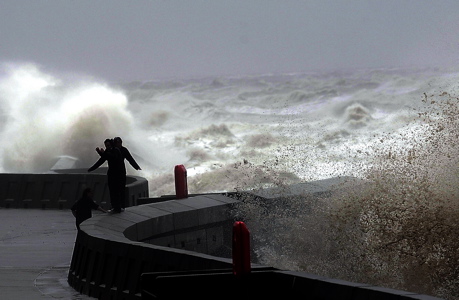 It doesn't seem quite fair. The UK gets Skyfall. We get Hurricane Sandy.
But then again, Brits have weathered their share of perfect storms, and, seeing as the weather is stereotypically a favorite topic of the English, we here at Anglophenia thought we'd take a look at some of those instances when it's been our British cousins who are the ones being tempest-tossed.
It's true that the UK, famous for its wet climate, is rarely wanting for rain. In fact, last month the country was inundated with an average September's rain in just one day. And that was after a summer unusually heavy with rainfall.
And even right now, the weather in the British Isles isn't so hot.
So here's a quick look at some of Britain's worst storms:
• The worst storm in recent times hit Cornwall, Devon and the Midlands in October 1987. It killed 18 people, caused £1.5 billion in damage and is estimated to have uprooted 15 million trees.
One interesting side effect of the storm was one that was unforeseen. A few wild boar, a species that was officially extinct in the wild, escaped from captivity during the hurricane, and began breeding in the countryside. In 2004, there were reports that there were as many as 260 roaming free, effectively returning from extinction.
• Then there's the mother of all British storms which struck southern Britain on the night of November 26, 1703, killing between 8,000 and 15,000 people.
The "Great Storm," as it's come to be known, was so strong that it blew a ship all the way across the North Sea to Sweden.
"Yet it left more than a legacy of destruction," wrote John J. Miller in the Wall Street Journal last year. "It also became a source of creative inspiration, giving birth to the first substantial work of modern journalism."
Miller was referring to The Storm, the first full-length book written by Daniel Defoe, who would write Robinson Crusoe 16 years later.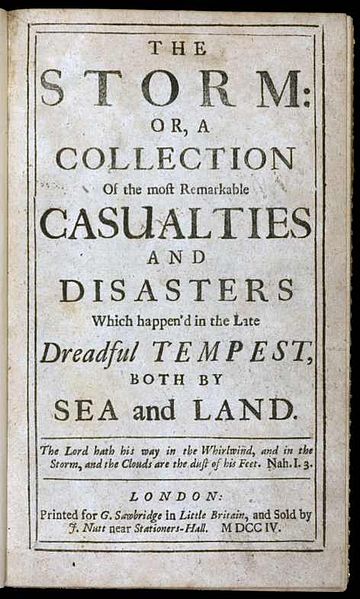 Defoe, who traveled the country and collected accounts of the experiences of others, called the storm, "The Greatest, the Longest in Duration, the widest in Extent, of all the Tempests and Storms that History gives any Account of since the Beginning of Time."
• October 14, 1881 is still known as "Black Friday" in south-east Scotland, where nearly 200 fisherman were killed in a storm at sea.
• In 1953, 300 people drowned on England's northeast coast in flooding from an abnormally fierce storm surge.
(via The Guardian/Press Association)
Read More
Filed Under: