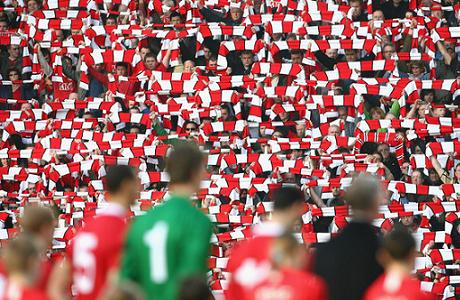 As a Brit married to an American woman I feel I can have a go at writing this…
1. Aversion To Therapy  
The British male tendency to keep a stiff upper lip, repress their emotions and only ever consider visiting a hospital when a bone is poking out through the skin is not attractive. Being in touch with your inner self (or even admitting emotions exist outside the realm of sports teams) is a good thing however, and something that American men seem to do well — or at least better than Brits.
2. Cheers!
Due to a lower legal age (16 for entering a pub, 18 for buying alcohol) in the UK, British men see going out for a drink – and even having one too many – as a regular and normal part of their lives. They could have been drinking for years before you even had your first beer, so in a country that had Prohibition and still has "dry" counties, it's not surprising that attitudes to drinking are different – and that it's something you might find hard to get used to.
3. Sweets For My Sweet
Jokes about bad British gnashers aside (and don't all American children get braces on their teeth regardless of whether they need them anyway?), it's true to say that many British men have a sweet tooth. A love of unhealthy (and sometimes weird looking and tasting) candy is often lifelong, and my desire for imported and expensive Yorkie bars, or bringing home bags of bananas, shrimps and other "penny sweets" from vacation trips home never fails to raise confused eyebrows.
4. Sporting Behavior
For a while in the 1980s, all many of you saw of British men was their tendency to turn soccer games into riots. Rules, regulations and expensive game tickets changed all that, so you can be sure that every British man watching Fox Sports won't turn into a baying gorilla as soon as he sees a soccer ball. Also, many British men love cricket — a complicated game full of rules that looks like a bit like baseball and has some of the same principles — though everyone plays in matching white uniforms and the games last many hours, even days. You'll find this a challenge, though luckily cricket pitches are few and far between in the U.S. Then there's rugby, though that's very close in spirit to U.S. football — though rugby players don't have all that "ooo, don't hurt me" protective equipment.
5. Class War!
Despite any talk of today's Britain being a "classless society," distinctions and differences assumed about someone's background, education, job, and bank balance still cloud many people's judgment there. In the dating arena, this means that you may find British men can be either snobby and dismissive, or jealous and resentful. America has historically been divided more along racial lines than in terms of class — though love conquers all (or at least it should).
What other traits should American women expect when dating a Brit?
See also: Emma Watson's guide to dating British and American men
Read More
Filed Under: