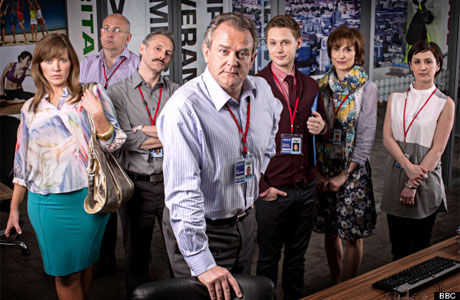 1: It's A Mock-Documentary (Like The Office)
Twenty Twelve tells a very simple story. A group of professionals have been brought together to deliver the 2012 Olympic Games. They have to pre-empt every potential problem, find workable solution, liaise with the appropriate agencies and generally make things work. This is the documentary of their best efforts, the kind of documentary that the real organisers of the games will definitely have considered, even if they didn't make it. However, there is one problem…
2: It's About A Group Of Inept People Doing Their Best In Trying Circumstances (Like Dad's Army)
You wouldn't trust the Olympic Deliverance Commission to run a bath, let alone a global sporting event, however, that is what they are attempting to do, and despite their obvious flaws, they keep coming back, day after day, drunk on their own self-importance, and trying hard not to be exposed as the idiots they clearly are.
3: It Pokes Fun At Modern Office Jargon And Media Nonsense (Like Absolutely Fabulous)
Every good sitcom needs their grotesques, and Jessica Hynes' Siobhan has that role in Twenty-Twelve. She's the brand manager, and her job is to sell every aspect of the oncoming Olympic Games to the British public, using modern marketing methods. These largely involve social media and bad puns, but she appears to believe she's solving world hunger and finding a cure for cancer at the same time.
4: It Has An Unspoken Love Story For A Spine (Like The Office again)
There is something about the mockumentary format that really lends depth and significance to meaningful glances after comic moments have passed. The way Sally (Olivia Colman) will look thoughtfully at Ian (Hugh Bonneville) as she deftly goes about her work, or the way Ian utterly confides in/relies upon Sally . It's like Tim and Dawn all over again, only without the fun of tormenting Gareth to bond over.
5: It Is Less Daft Than Reality (Like The Thick Of It)
There is nothing that happens in Twenty Twelve that feels far-fetched or even unlikely, given the kind of people that tend to get to do this kind of work and the way they work. All of the deftly scripted management-speak came out of the mouths of pompous real people, and everyone has been in a meeting with people whose personal agenda appears to be to disrupt and self-promote as much as is humanly possible.
Plus, when you're organising a real event in which this sort of thing can genuinely happen to Boris Johnson, the Mayor of London, no comedy conceit can ever be said to be taking things too far:
Jubilicious!
Twenty Twelve is released on DVD on January 15, but you can get it exclusively from Barnes and Noble from October 23. 
Read More
Filed Under: