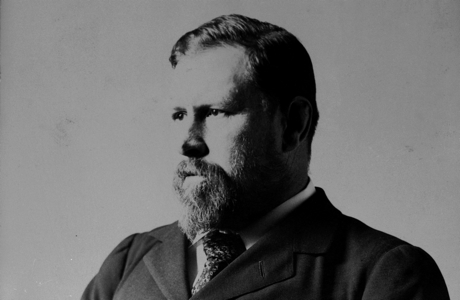 When someone mentions Dracula, chances are you picture a dark-haired, black-caped, mysterious gent who hails from Transylvania and sounds like Bela Lugosi. Of course Dracula now belongs to the world, but did you know that he's really a whole lot more English and Irish than anything else?
And no, we're not talking about the more recent cinematic contributions to the Dracula persona from actors like Christopher Lee and Gary Oldman, though they've admirably carried on Dracula's British legacy.
Dracula – the whole modern vampire craze, really – was started by Dublin-born author and theatrical manager Bram Stoker, who published his novel about the undead count in 1897. But it wasn't just some fluke or coincidence that literature's most famous sexual predator emerged from the British Isles at the end of the 19th century, say literary scholars. Dracula arose, not from the dead, but from a repressed Victorian society that outwardly attempted to crush all the seething fears and desires that he came to represent.
Blaisín Bram Stoker agus Dracula from Dearcán Media on Vimeo.
Stoker, Dracula's creator, appears to have been a victim of Victorian repression himself, personally torn between traditional and artistic professions and wracked with sexual guilt and confusion, argue some scholars.
Modern day literary historians are working to connect Stoker's biography and the popular culture of his time with the creation of his most famous character. Many have pointed to the 15th century Vlad Tepes, Prince of Wallachia as an inspiration for Dracula. Often referred to as Vlad the Impaler because he is said to have killed tens of thousands of people, including women and children, by live impalement, the Prince was undoubtedly known to Stoker, as the novel itself demonstrates.
But many Dracula experts concentrate on characters, places and influences closer to Stoker's home in searching for the sources for the novel.
Dacre Stoker, the author's great grandnephew, says that much can be explained by looking at young Bram's childhood in Ireland, where tales of vampires were not uncommon.
"He didn't just hear about Vlad Tepes somehow and make up a vampire, he was brought up with all this stuff," the modern-day descendant told a panel recently at New York's Comic Con.
In addition to Irish folk tales, Stoker would have been exposed to Gothic novels, a literary genre invented in England in the 18th century. And there were plenty of examples of popular British fiction about vampires – including John Polidori's The Vampyre (1819), James Malcolm Rymer's Varney the Vampire, or The Feast of Blood (1847) Sheridan Le Fanu's Carmilla (1872), the last about a female vampire and her female lover/victim.
But Dacre Stoker focuses even more on his famous relative's personal biography, which is, for him, also family history.
As a child, Bram was often sick. Dacre believes that Bram's uncle, a doctor, used bloodletting on the boy, a treatment likely to have been so traumatic that it might have influenced the novel.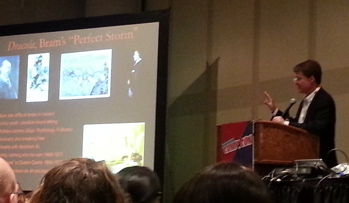 Bram's mother grew up in Sligo, at a time when cholera epidemics led to people being tossed prematurely into mass graves – "I'm not dead yet," Dacre joked with the Comic Con crowd, but his point was that hearing such stories as a child could have led to obsessions about the "undead."
"Think of young Bram, sick, he can't breathe very well, he's probably hearing that he's the next guy to get thrown in to the grave," said Dacre.
As a child, Dacre adds, Bram lived near a "suicide grave" – people at the time believed that those who took their own lives were damned.
Dacre Stoker also believes that his grand-uncle patterned one of the novel's major characters, vampire hunter Dr. Van Helsing, on his brother, who was not only a Dublin hospital doctor but was also interested in the study of blood transfusions and insanity.
Then there are the novel's locations.
While traveling in Scotland, Stoker discovered Slains Castle, near Cruden Bay, Aberdeenshire, where he was staying, and decided to pattern Dracula's Transylvanian castle after it.
Even more famous is his choice of the seaside town of Whitby in Yorkshire as Dracula's first entry point into England. Stoker had vacationed there and learned that, several years earlier, there had been a famous wreck of a Russian ship called the Dmitri; that episode makes its way into the novel when Dracula's ship, renamed the Demeter, its crew dead, runs aground, the  only living passenger an "immense dog" who jumped off and "disappeared into the darkness."
"Whitby," says says Dacre Stoker, "is exactly as Bram described it. People literally walk around with chapter six, seven and eight, and they follow the Dracula steps because it's that precise."
There are exactly 199 steps, says the town's website. Whitby has even become the home of a local Dracula tour, a Bram Stoker film festival and a biannual Goth weekend.
In Whitby, Bram Stoker found something else central to the novel. In a library – "which is now a fish and chips shop," says Dacre – Stoker took notes about a book that explained that "Dracula" in Wallachian means "devil." It was an big moment: Stoker had found the name of his character – and his novel.
"Here's my guy," Dacre imagined Bram saying to himself. "It's going to be Dracula."
As the documentary Lands of Dracula demonstrates, Stoker's Dracula was such an Anglo-Irish creation that Transylvania has literally had to invent character-related sites to keep up with tourist interest.
Scholars, however, debate who is the real-life model for Dracula, or if there is one. Many point to the larger-than-life Henry Irving, the actor for whom Stoker worked as an agent and business manager; they say his domineering personality is reflected in Dracula, whose physical description bears a close resemblance to that of the London actor. Others also suggest that Stoker had unrequited romantic feelings for Irving.
Such biographical speculation can generate high stakes academic debate, because it can conceivably change our view of the work itself. But there are also some incidents in author biographies whose ultimate meanings are harder to make sense of.
Like this one, an "interesting irony" offered by Dacre Stoker about his great uncle:
Bram Stoker is said to have once jumped into the Thames to try to save a man from drowning.
"The guy didn't live," says Dacre, "but the interesting story is that he dragged him out – very dangerous to do this with all the swirling tides – threw him on his shoulder and ran back to home. My grandfather was a doctor who was living with him at the time, and they tried to revive the guy."
But to no avail.
"Florence, Bram's wife was so upset that a dead guy was lying on the dining room table for a long time even after they tried to revive him that she convinced Bram to sell the house."
"What's wrong with that picture?" asked Dacre Stoker. "Bram Stoker writing one of the most horrific novels of all time – and the wife doesn't like one dead guy lying on the table."
Read More
Filed Under: