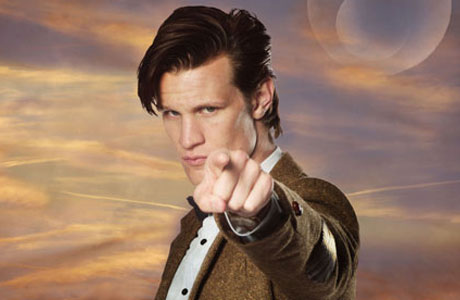 Never underestimate the sheer power of Whovians: TV Guide has released the standings of its Fan Favorites Cover Poll, and look who's on top: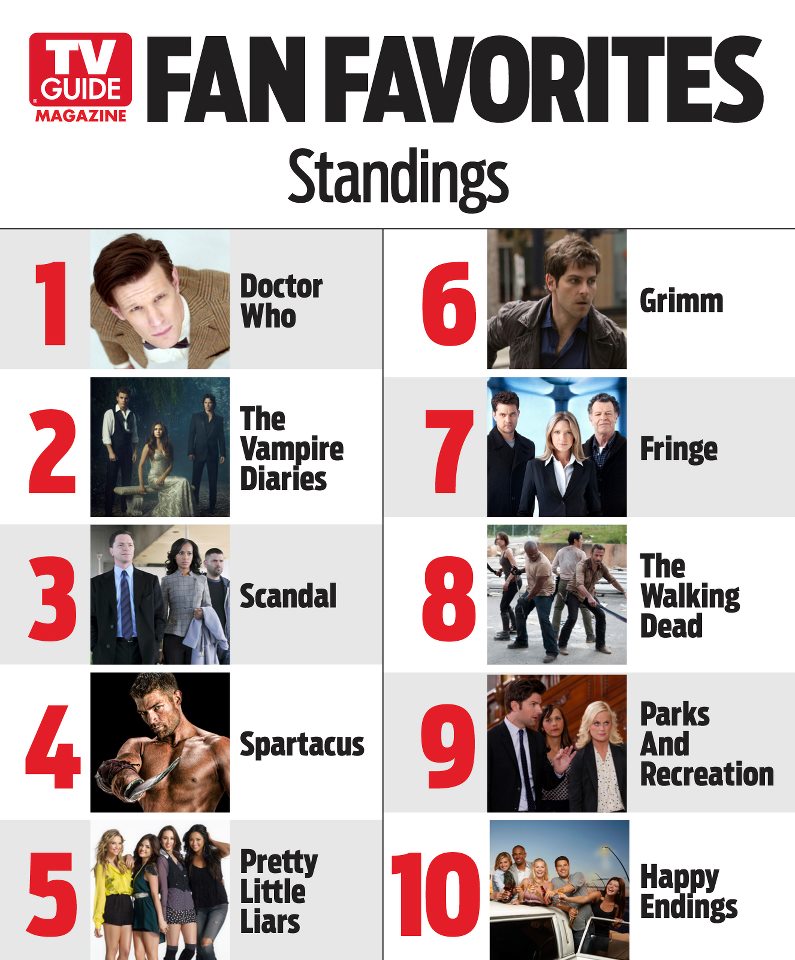 Know what this means? Time to mobilize even further. Share this link with your friends, launch a movement on Tumblr and Twitter. MAKE. THIS. HAPPEN. Remember that you can vote as many times as you like, no matter where you reside in the Whoniverse. (Except on a mobile device.)
• We are more than pleased to announce the winner of our Fantasy TV Guide Headline contest. And our champion is Jay Logsdon, who won over a plurality of voters with the succinct line: "Trust me, I'm the Doctor." What has Jay won? Well, he'll be one of the first Whovians to own the Season 7, Part 1 DVD, which hits stores November 13. Here are the vote totals for the top five:
1. "Trust Me, I'm The Doctor." (Jay Logsdon) 22.66%
2. "In All of Time And Space, One Question Remains: Doctor… Who?" (Allison Noelle Winters) 20.57%
3. "Doctor Who: On A Scale of One to Ten, He's an Eleven." (Shellio) 14.7%
4. "Time Lord Victorious – How a British Icon Has Taken America By Storm" (Ryan D. Hatch) 10.22%
5. "Doctor Who: 50 Years of Aliens, Companions, and the Most Loyal Fans in the Universe." (Matt Biondo) 8.95%
Now, to the rest of time and space:
• Matt Smith has had some ideas for future Doctor Who location shoots, as he told BANG Showbiz: "I was really pleased to go to New York, for me it's all about going to actual locations. I'd quite like to go back to America. I also think you could make quite a fun episode in Iceland or South America, or you could go to Peru. I'd like to film something in those places. The Pyramids would be fun, too, but I'd rather go to Peru."
• Actor Ashley Walters — whom you might recognize from his roles on Bedlam, Outcasts, and Inside Men — has scored a guest spot on Doctor Who next season, and he offers his praise for Matt Smith and Jenna-Louise Coleman. He tells Radio Times: "You can't beat being in Doctor Who – it's something I've grown up with my whole life and working with Matt Smith was amazing. He's a really, really good actor and just being a part of that huge BBC franchise was an incredible thing. And Jenna-Louise Coleman is really good at what she does – it seems like she's enjoying her job and I loved working with her."
And, get ready for it, he teases: "In our episode it'll be the first time people get to see so much of the TARDIS."
• Few shows blend dark drama and crackling humor like Doctor Who, but what moments have been the funniest in the show's history. Here are 10 that had us giggling.
Now, to Tumblr, where this has just made us laugh:
Which just made us love this all the more:
• John Simm has been telling the Radio Times that he wants another crack at playing the Master, only this time, it would be less mad, and scarier. He explains: "Russell T Davies had a specific idea of what he wanted him to be like. So I just had to do exactly what he wanted me to, and he wanted a giggling lunatic."
When asked how the role may change under Steven Moffat's guidance, John added: "I'm sure his take on him would be different so I'd be interested to have a look at it. I'd like to take the Master to a very, very dark place."
• Speaking of former Whovians, Arthur Darvill's first TV role since Rory vanished into the past airs on British screens tonight, and he's playing a vengeful barber. Here's some more info.
• We interviewed actor Toby Jones, who played the Dream Lord in the Season 5 episode "Amy's Choice," and he says doing Doctor Who was "way cooler" than playing Sir Alfred Hitchcock in the recent HBO telefilm The Girl. He also sings the praises of Matt Smith.
• We love a good opening credits mashup, but this is amazing. The Doctor Who opening sequence, done Sherlock-style.
Just a few requests to our Whovian brethren: what about a Doctor Who opening done West Wing style; an intro in the vein of The Walking Dead, or, perhaps, the Who opening re-imagined as an American Horror Story-like creepfest?
Or how about this, CSI: Gallifrey?
Case closed indeed.
TTFN!
Read More
Filed Under: