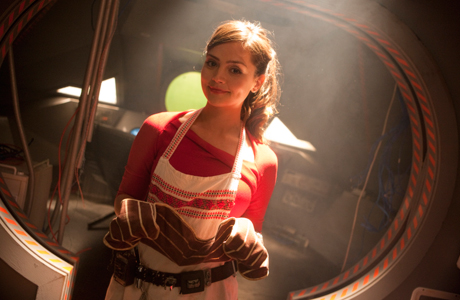 • Arthur Darvill has given his stamp of approval to new companion, Jenna-Louise Coleman. In an interview with RadioTimes, Darvill had this to say: "I met Jenna during the filming for "Asylum of the Daleks" and I think she's brilliant. She has to be different from Amy and I think what she did in that episode was just great – I'm really intrigued. It's so nice not knowing what's going to happen and to be able to watch it all unfold. I think Jenna's a really interesting actress and I reckon Matt's going to have a great time on set with her."
• As for Matt himself, well, he's confirmed that this is indeed the case, telling Metro: "Jenna is doing wonderfully well. I look back to my first day and I was like a rabbit in the headlights. She is much more assured."
And it seems the change of companion is having a remarkable effect on the Doctor too, he says: "Rory used to take care of Amy quite a lot so the Doctor became a weird old grandfather. He was ostracized in some way. So it is nice having a different dynamic. I think the Doctor has done well on both accounts — I think they are both hot. Jenna is a joy and I lucked out again."
• And he said all this while up to his wrists in concrete, at the Doctor Who Experience in Cardiff, where they've just taken delivery of Jenna's Oswin dress from Asylum of the Daleks, and those two robots from Dinosaurs on a Spaceship. Here's a brief report to explain what happened.
• Have you ever wondered what it is like to be a Dalek? Or rather, have you ever wondered what it is like to operate a Dalek as part of the production of a TV show, rather than becoming an actual citizen of Skaro? Well SciFiNow has a very revealing interview with Barnaby Edwards, who has that very job.
Barnaby E-LU-CI-DATES: "It's entirely hollow inside and open at the base, so in the manner of the Flintstones you move it along with your feet; you sit on the plank and move the eyestalk, the gun, and the sucker with your hands.
"You need very, very good grip trainers and strong legs; those are the principal qualities of a Dalek operator. You also need a lack of claustrophobia and the ability to sit for long periods of time in a tin can."
• And while we're on the subject, here's our recent roundup of household objects that can, if looked at a certain way, look a little Daleky.
• Feast your eyes and ears on this incredible fan made music video. We're digging the Tenacious D vibe and the cheesy special effects, à la Classic Who.
• Time for some music! Watch this talented Whovian perform her original Trock song, "Goodbye, Raggedy Man"
• Anglo's eleven reasons why the Doctor should appear on the cover of TV Guide, taken from your comments on the blog and Facebook feedback, are all collated here. Also, fans submitted their fantasy TV Guide cover headlines, and here are the top 10 finalists. Vote for your favorite. Winner receives a Doctor Who, Season 7 Part 1 DVD.
• OH YEAH, and if you want Doctor Who on the cover of TV Guide, vote regularly until TV Guide's Fan Favorites Cover Poll close on Monday, October 29 at 3 am ET.
• Speaking of fans, Vulture has named Whovians No. 9 of their list of 25 Most Devoted Fan Bases in pop culture. They rank ahead of Arrested Development fans, Community aficionados, Trekkers, and Springsteen, Oprah, and True Blood followers. Beliebers, Gaga's Little Monsters, Twihards, and Potterheads rank in the Top 8, with Game of Thrones devotees at No. 1.
• BBC AMERICA's Brit List is polling Whovians on a number of topics, including "Best Modern Female Companions." Submit your ballots here — your votes will determine the rankings for lists in their upcoming special.
• But let's end on the saddest thing any of us have seen all week. The unshot epilogue to Rory and Amy's sad farewell at the end of The Angels Take Manhattan, comprising Rory's goodbye letter to his dad Brian:
Alert! Alert! Tear-duct malfunction! etc…
Read More
Filed Under: