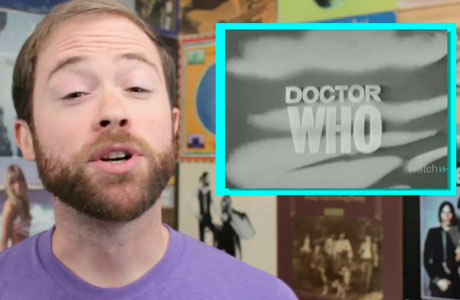 OK, kid gloves on, here we go:
Did you see this on PBS, towards the end of last week? The Idea Channel have a whimsical report entitled "Is Doctor Who A Religion?" which is sure to introduce a feline predator to an occupied dovecote.
By all means start the debate in the comments below, but before you do, here's what else is going on in time and space this week:
• For starters, if you want to see Doctor Who on the cover of TV Guide, you start to get your voting fingers nimble! Who is nominated in TV Guide's annual Fan Favorites Cover Poll, which runs through Monday, October 29 at 3 am ET. And — this is key — there's no limit on the times you can vote, so make sure you're casting your ballot frequently.
By the way, we're collecting your opinions on why Doctor Who should join Lucy and Desi, Mary Tyler Moore, Bill Cosby, Jerry Seinfeld, and all of the other small-screen icons who've graced TV Guide's cover.
Anglophenia reader DGVanB puts it quite well: "Doctor Who has more than earned the right to be on the cover of TV Guide…As others here have pointed out, it is the longest-running sci-fi television show, and it also is one of the longest-running TV shows of any type.
"[Being] shown on BBC AMERICA has help the show to become more popular in the U.S. than ever before. You also see Doctor Who references pop up in other U.S. made TV programs; this in itself makes Doctor Who's impact… felt beyond its own niche. This should be recognized."
• BBC AMERICA's series The Brit List is doing a bit of polling themselves, asking Doctor Who fans their favorite modern female companions, scariest monsters, scariest moments from the show, favorite celebrity guest star, and favorite thing you'd only see on Doctor Who. Your votes will determine the rankings on their upcoming Doctor Who special.
• Alex Kingston fans, keep your eyes out for a future epsiode of NCIS. According to the show's producer Gary Glasberg (via TV Line), she's going to be appearing in a November episode, playing a "woman of questionable morals" called Miranda Pennebaker.
• Look! Look! TARDIS socks! (via i make things)
• There's a lovely interview on the Radio Times site with Arthur Darvill, in which he conjectures as to how Amy and Rory's lives will pan out after being whooshed off to the past by a Weeping Angel. He said this: "I think they have a very quiet life – which is quite sad after having such an adventurous time – but they're just happy to be together. Obviously it doesn't run smoothly as they're stuck back in quite a horrible place but they've got each other and that's all they really need."
• New Whovians! Are you concerned that in discussing the show with veteran fans you'll break some tiny point of pedant etiquette and risk a thorough scorning? Well fret no more, here's our guide to Whovian pedantry, entitled Doctor Whom.
• Oh and if you are new, you might want to have a listen to this. It's all of the various versions of the Doctor Who theme, from 1963 to the present day. The Doctor Who theme, composed by Ron Grainer and then recorded by Delia Derbyshire of the BBC Radiophonic Workshop is considered a real milestone in the development and popularisation of electronic music, and must have been truly astonishing coming out of TV sets in the '60s.
• We're quite taken with this gif. Stare deeply into David Tennant's eyes. Now concentrate…
Yeah. Isn't it?
• Last week saw the end of two long blog threads for Anglophenia. Life Outside The TARDIS came back down to Earth with a roundup of the classic companions and the other stuff they did, and then the Rogues Gallery launched a big exhibition of the less obvious monsters and villains, including one made of actual sweets. Ladies and gentlemen, may we present the Odd Squad!
• You knew it had to happen: Doctor Who, Gangnam Style. It's not a full-on parody, but it's quite clever. And if you are sick of the song, don't worry: the clip's only 37 seconds.
• Let's end with one last response to The Angels Take Manhattan, from an expert. Here's 3-year-old Lindalee Rose:
TTFN!
Read More
Filed Under: