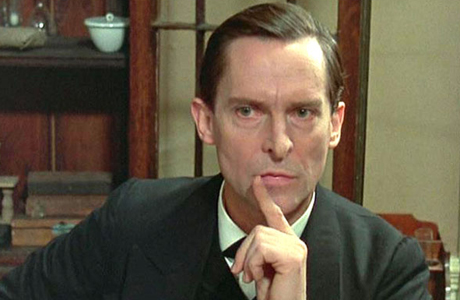 Robert Downey Jr.'s blockbuster success aside, Benedict Cumberbatch is the definitive contemporary Sherlock Holmes to many diehards. But Cumberbatch himself has honored the man who previously defined Holmes for a generation, actor Jeremy Brett, who played Arthur Conan Doyle's complicated detective in The Adventures of Sherlock Holmes from 1984 to 1994.
"I saw that version when I was growing up," said Cumberbatch told an audience at Cheltenham Literature Festival (via Radio Times). "I remember at my nan's in Brighton we used to watch that on the telly, but I know much more of it now having watched it after we first incarnated our version of him."
Cumberbatch relays his impressions of Brett with a writerly eloquence: "Even when I was younger I was still struck by this extraordinary hawk-like, magisterial, cold disconnect. And this incredible physique, as well – that wonderful beak of a nose, the swept back hair, the lips and those slightly mad eyes, which, sadly, became a lot madder."
The deeply troubled Brett fought a very public battle with bipolar disorder late in his career, requiring hospitalization several times. He passed away a year after his final Sherlock appearance, in 1995, due to heart failure at 61.
Here's a bit of Brett as Sherlock: we first see his face, dramatically, at 0:52:
http://www.youtube.com/watch?v=JX6a–uu6QM
Are you a Jeremy Brett fan? How would you compare his performance to Cumberbatch's?
Read More
Filed Under: