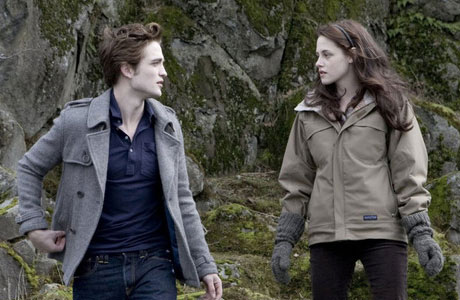 Cornwall, for the uninitiated, is like the Florida of the UK. It's a peninsula at the wrong end of the country, with a warmer and wetter climate than everywhere else. There are a lot of beaches, and a lot of cliffs, and it's very, very pretty and quite quiet.
So it's relatively common to hear rumours of celebrities wanting to move here, to get away from the hubbub of their daily lives and relax a bit. Thom Yorke has a house in Cornwall. So does Dawn French. Tori Amos lives here all the time. And now there are rumors from the kind of people who always seem to know this kind of thing that Twilight stars Robert Pattinson and Kristen Stewart, who are (reportedly) DEFINITELY getting back together, no matter WHAT you may have heard to the contrary, are looking for a place.
A StewPat insider told The Sun: "When Robert was growing up the whole family would go away on idyllic holidays to Falmouth, Truro and Newquay, so he's always thought of the area fondly
"A few weeks ago, he took Kristen to Lizard Point for a four-day trip and hardly anyone bothered them. They had a fabulous few days just being normal."
And like a lot of people who go on holiday and don't want to go home, they wondered what it might be like to stay forever…
"They agreed to buy a bolthole there and, after setting their hearts on a couple of remote cottages, are hoping to finalise on one soon. It's yet another sign they're firmly back on track as a committed couple and not looking back."
Or at least, not until their contractual obligations on the The Twilight Saga: Breaking Dawn – Part 2 have finally finished.
Here's the trailer:
Read More
Filed Under: