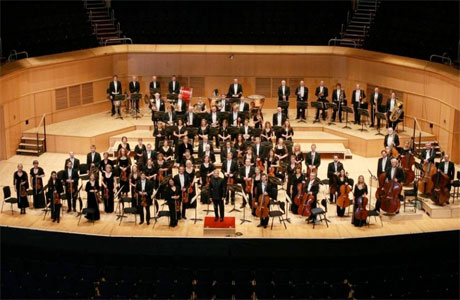 I don't know about you, gentle Anglophenians, but this story has created something of a dilemma, in that I'm too sceptical to accept it wholeheartedly, but too optimistic to dismiss it outright.
It seems the Royal Scottish National Orchestra (RSNO) has launched an initiative, in conjuction with the Association of Registrars in Scotland, to give away a free CD of classical music to every newborn child over the next year. The CD, entitled "Astar" (which is Gaelic for 'journey'), was recorded with the RSNO Junior Chorus,  and will contain a mixture of traditional Scottish songs, nursery rhymes, and well-known classical themes. It is hoped that the CD, which will be available from all 22o registrar offices in Scotland, will reach something in the region of 60,000 families, which is pretty good going for a new album these days.
RSNO music director Peter Oundjian told BBC News: "When I was an infant my godfather gave me a tiny record player, I would place it under the family piano and put on my prized recording of Peter and the Wolf. It became my sanctuary, a place where I knew I could find joy.
"I have found that the power and beauty of music can truly transform lives and I seriously hope that the recipients of "Astar" enjoy many hours of shared pleasure to this wonderful music."
See? It sounds lovely, but (and it pains me to say it), also a little condescending, as if Scottish parents don't know that their children would benefit from hearing music, but also that it has to be the right kind of music, not this pop rubbish you get on the radio nowadays. I am sure this kind gift is not offered with that intent, but that's how it comes across.
On the other hand, Fiona Hyslop, Cabinet Secretary for Culture, said: "This delightful project will encourage an early introduction to the joy of music for Scotland's youngest children.
"It will help to give babies the best possible start in life, strengthen the building of parent-child bonds, and encourage families to use music to enhance learning in the home."
And who knows, it might even whet their appetite for something stronger as they get older. We could see a strong uptake in Scottish composition in 14 or 15 years' time, a new renaissance for classical music, anything! Or Scottish charity shops could be awash with unplayed CDs.
Let's just wait and see, shall we?
Read More
Filed Under: