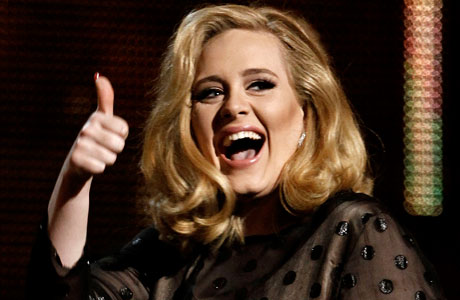 Sometimes the job of celebrity reportage is similar to pointing at clouds and saying confidently that they are definitely the things they look like, if you squint a bit. And sometimes it's like reading the future in bits of raw chicken. It's fine to make a prediction, but you have to be prepared for your words to come back and haunt you, once the true facts emerge.
So, when reports started to come in over the weekend that Adele had had her baby – a son, as yet unnamed – well that looked like a cause for celebration, right? A pop star famous for putting her personal anguish into her songs has had a very happy event occur in her life, and of course her fans (and even some of her foes) would want to wish her nothing but the best.
However, because there's been no official announcement of the joyous arrival yet, (her publicist is quoted in Us Weekly as saying "we are not releasing a statement at this time," which is unusual) it seems a little premature to be hanging out the internet bunting and sending virtual bootees via social networking.
On the other hand, it has not stopped Twitter wags with nothing better to do from making up stupid jokes about Adele and her size. To be fair, they'd have been doing this anyway, but again, in the absence of concrete information, the newspapers have searched the miscreants out (even though their jokes weren't addressed TO the singer) and written pieces about web-trolling (seemingly without the first clue as to what trolling is).
So, all we can confidently say at this point is that Adele was pregnant towards the end of last week, and since then, we can't be sure what has happened. It would be horrendous to conjecture anything at this point, and then find out an awful thing has happened, just for the sake of being involved in a news cycle. There again, the most likely (and best possible) explanation is that she's had the baby and cannot be bothered to have anything to do with a) the media and b) the internet.
Let's hope that's the case.
Read More
Filed Under: