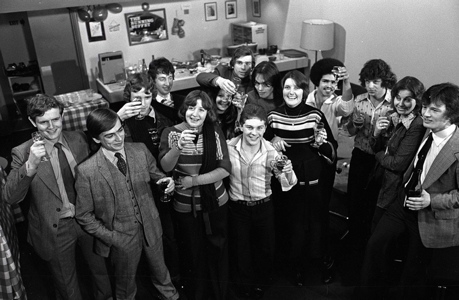 They've become almost like old friends, and now we have another chance to catch up.
For the past half century, fans of English filmmaker Michael Apted's Up series have gotten to check in with the group of men and women he has been interviewing every seven years since they were 7-year-olds gathered to romp at a London playground for the 1964 British TV documentary, 7 Up!
The latest film in Apted's series, 56 Up, has just announced its American opening date. Tony the cab driver, Bruce the teacher, Suzy the suburban matron and the rest, now all 56-year-olds, will be back when the new documentary screens at this weekend's Hamptons Film Festival. It will begin showing at New York's IFC Center on January 4, and a run across the U.S. will follow.
Since its start, the series has offered a time-lapse picture of how the impact of the class system has changed and yet how it remains very much in place in British society.
Who can forget the three privileged little boys, sitting together on a couch in their school uniforms, offering snooty opinions in the first film as to why they were glad to attend an elite school that charged tuition? Otherwise, as one put it, "Schools would be so nasty and crowded," while his mate chimed in, "And poor people would come rushing in."
Here's part one of the original 7 UP!:
http://www.youtube.com/watch?v=ngSGIjwwc4U
For the second part of 7 Up!, click here, and for the third part, click here.
In a press release touting the U.S. release of 56 Up, Apted said, "I never know how each new film will turn out, except that it'll be quite different from the last. 21 Up was full of hope, 28 was about children and responsibility, 35 was concerned with mortality when some were losing parents, and 49 had a sense of disappointment with lives maybe not fully achieved. Yet 56 is quite different again, which goes to prove, if nothing else, that our series mirrors life, and is always full of surprises."
This eighth episode of the Up series aired on Britain's ITV network last May. Reviewing it for The Independent, TV critic Tom Sutcliffe wrote, "If you didn't shed at least one or two tears during 56 Up then you might want to check your pulse. It is, by some stretch, among the most affecting television programs ever made…"
Apted began as a researcher on 1964's 7 Up! but has directed all the subsequent films, taking a break from his Hollywood career – his successful movies include Coal Miner's Daughter (1980), The World is Not Enough (1999) and The Chronicles of Narnia: The Voyage of the Dawn Treader (2010) – every seven years to make yet another chapter in the Up series.
In this latest go-round, 13 of the original 14 interviewees are back. The only one missing is documentary filmmaker Charles Furneaux (Into the Void), who last appeared in the series in 21 Up and has consistently refused to participate ever since.
"That part is always the most challenging, establishing who wants to take part and who doesn't," Apted said in an interview last May with The Telegraph. "We've never had legal contracts with any of the participants so the hardest thing about the whole project is to get them to agree to it."
In other comments last spring, Apted said that he regretted that only four of the 14 original subjects profiled were women. It was a "horrible error," he said. If 7 Up! had been less sexist back in 1964 in its casting, Apted contends that the series would have been better able to portray the changing role of women in British society over the past half century.
Just how significant is the Up series? American film critic Roger Ebert has called it "an inspired, almost noble use of the film medium." Here is Ebert interviewing Apted back in 2006 when 49 Up was released:
————————-
Are you a fan of the Up series?
————————-
Read More
Filed Under: