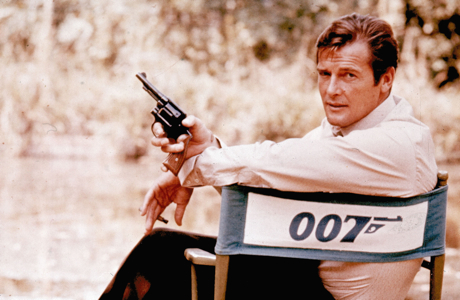 Roger Moore played James Bond for laughs. Fans either laughed along or waited it out for seven films until the next 007 – it turned out to be Timothy Dalton – showed up.
When he first portrayed Ian Fleming's British super spy in 1973's Live and Let Die, Moore became the third actor to take on the role in the official Bond series. His predecessors were Scotsman Sean Connery, who had made six films (and would return for a seventh time in 1983 for Never Say Never Again, but that was an unofficial entry in the Bond canon), and Aussie George Lazenby, whose On Her Majesty's Secret Service (1969) marked his only outing as Bond. (Moore's successors as Bond include Dalton, Pierce Brosnan and the current occupant, Daniel Craig.)
In the Bond movie universe, Moore is the proud holder of three noteworthy records:
1. At age 45 in 1973, he was the oldest actor to take over the role.
2. At 57, he was again the oldest actor play the role in 1985's A View To a Kill, his seventh and final Bond film.
3. With seven appearances as 007, he starred in the most official Bond films. (If one counts Never Say Never Again, despite its unofficial status, Moore and Connery are tied.)
Moore was born in London in 1927, the son of a policeman. He served in the British military shortly after World War II and then studied at the Royal Academy of Dramatic Art, where actress Lois Maxwell, the original Miss Moneypenny in the Bond films, was a classmate. After launching his career in reparatory theaters around the UK ("You're not that good, so smile a lot when you come on!" Moore has said the manager at his first theater told him), he began appearing as a model in ads and as an actor in early television shows.
He headed to Hollywood in the early '50s, landing a contract at MGM but failing to find much success in films such as The King's Thief (1955) and Diane (1956). Back in England, he scored with the TV series Ivanhoe (1958-59) and, ironically, played James Bond in 1964 on TV opposite British actress Millicent Martin in a guest appearance on her BBC comedy show, Mainly Millicent.
Moore's greatest early success came on the small screen playing suave, globetrotting adventurers in The Saint (1962-69) and The Persuaders (1971-72). (He co-starred with Tony Curtis in the latter.) Both shows were popular around the world, making him an international star.
When Bond producer Albert "Cubby" Broccoli found himself in need of a new 007, Moore was an obvious and popular choice. In many ways, he played the roles as an extension of the jaunty sophisticates, Simon Templar and Lord Brett Sinclair, whom he had played, respectively, on The Saint and Persuaders.  Moore's Bond glided through his seven films with an amused expression, a debonair attitude and an always-ready quip.
There were still plenty of action scenes in the Bond films of the Moore era, but unlike most other Bonds, Moore always copped to the fact that he let stunt doubles do the major tough stuff. It was enough that he managed to shoot his weapons convincingly, given that Moore had been phobic about firearms following a childhood accident in which he was shot in the leg with a pellet gun.
Moore's Bond films – the list, in chronological order, consists of Live and Let Die (1973), The Man with the Golden Gun (1974), The Spy Who Loved Me (1977), Moonraker (1979), For Your Eyes Only (1981), Octopussy (1983) and A View to a Kill (1985) – were lucrative at the box office but mostly received middling reviews. Critics missed Connery's harder edge and felt Moore was too jocular. Others complained that the films had become watered-down family entertainment with the characters and stories too often playing second fiddle to special effects and vroom-vroom hardware. Moore, Washington Post critic Desson Howe once complained, appeared to be "lost in a Price Club warehouse full of gadgetry and futuristic big-boy machinery."
By the time Moore made his final Bond film, A View to a Kill, it was clear that age was catching up with him. You could practically hear his knees creaking as he chased a villain up the Eiffel Tower. Moore himself joked that he knew it was time to retire when it became embarrassingly obvious that the actresses playing the Bond girls were not just the age of his daughter but that of his granddaughter.
In his post-Bond years, Moore appeared in movies (notably Spice World, the 1997 Spice Girls film) and TV shows (The Dream Team), traveled the world as a goodwill ambassador for Unicef and was knighted in 2003. In 2008, he wrote a memoir, My Word Is My Bond, a cheerful collection of anecdotes about his early years and show business career.
These days, Moore's acting appearances are infrequent and mostly confined to voice work. He has not completely forsaken the limelight, however, as he continues to chat up audiences during frequent one-man shows in a program called An Evening With Sir Roger Moore. Over the past weekend, in just such an appearance in Bath, he praised Daniel Craig and Skyfall, which he had seen at an early screening.
In Bond on Bond, a book that Moore recently published to coincide with the movie franchise's golden anniversary, he wrote of Craig, "He is a wonderful actor, certainly the best actor to play Bond."
Moore has joked that, simply because of seniority, he is likely to be the first Bond to have his real life obituary printed. (Connery is nearly three years younger than Moore.) As for his legacy, Moore, ever affable, told an interviewer for Reuters a few years back, "I would love to be remembered as one of the greatest Lears or Hamlets. But as that's not going to happen I'm quite happy I did Bond."
To mark both the 50th anniversary this month of the Bond film franchise and the opening of the 23rd film, Skyfall, due in American multiplexes on Nov. 9, Anglophenia is taking a sequential look at each of the stars who got to introduce himself on screen as, "Bond. James Bond."
James Bond will return in (the form of) Timothy Dalton. Next week.
Read More
Filed Under: