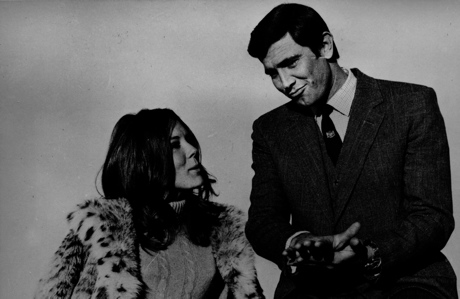 George Lazenby is the movie star equivalent of a one-hit wonder singer or band. He played James Bond once and once only in an official 007 film: 1969's On Her Majesty's Secret Service.
In Anglophenia's continuing sequential look at each of the six actors who have starred as Ian Fleming's suave British secret agent during the 50 years of the screen franchise, Lazenby is most definitely the sprinter who sneaked in amongst a pack of long distance runners.
In addition to holding the arguably mock-worthy record for making the fewest Bond films, the Australian-born Lazenby is the only actor to slip into a tux for the iconic role who doesn't hail from the British Isles. (Sean Connery is a Scotsman, Roger Moore and Daniel Craig are English, Timothy Dalton is Welsh-born and Pierce Bronson is Irish.)
A former used car salesman turned successful, London-based male model, Lazenby was best known prior to landing the Bond gig for appearing in TV commercials in England for Big Fry chocolate bars.
When Connery, the originator of super spy role, announced he was departing Bondville after five films, Lazenby went after the super spy slot aggressively despite the fact that he had no actual acting experience. To gain an edge and appear more 007-like, he purchased a custom-made, Saville Row suit that Connery had ordered but failed to pick up, a Rolex watch, and had his hair snipped by Connery's barber.
Those tricks paid off. Lazenby landed the role, which proved the easy part. Once filming began, it was downhill quickly. He clashed with both the director, Peter Hunt, and his co-star, Diana Rigg; he accused the Avengers star of purposely eating garlic prior to their kissing scenes. Rigg has denied the charge. And you can see her do just that, as well as dissing Lazenby for his swelled head, in a 2011 interview below:
http://www.youtube.com/watch?v=QiRaiidtTYQ&feature=related
When On Her Majesty's Secret Service opened, Lazenby, then 30, was mostly roasted by the critics.
"He's tall, dark, handsome and has a dimpled chin. But Mr. Lazenby, if not a spurious Bond, is merely a casual, pleasant, satisfactory replacement," said critic A.H. Weiler in the New York Times.
Variety, the then show biz bible, weighed in damningly with, "Lazenby is pleasant, capable and attractive in the role, but he suffers in the inevitable comparison with Connery. He doesn't have the latter's physique, voice and saturnine, virile looks."
Lazenby announced that, despite being offered a contract calling for him to perform in additional Bond films, he was departing the role. Lazenby's agent seemingly had convinced him that Bond wasn't cool enough to survive into the sure-to-be even more swinging 1970s and that he was made for even bigger things. The Bond series producers, already fed up with Lazenby's oversized sense of entitlement, were happy to see him go.
"They offered me millions under the table to do another one, but I thought James Bond was over," Lazenby told Entertainment Weekly this summer. "Easy Rider was the No. 1 movie. Everyone was smoking marijuana, and that was the furthest thing from a James Bond movie. So I didn't sign the contract. I was badly treated after that. They told the press that I was difficult to handle, so it was hard to find work."
http://www.youtube.com/watch?v=N8YJ4V4xqpU&feature=related
The One-Bond Wonder from Down Under went on to appear in various TV shows and movies, mostly small parts or cameos, including parodies of his Bond role. Lazenby made news again in 2002 when he wed Pam Shriver, the former U.S. professional tennis star and TV commentator, and there were even bigger headlines when she filed for divorce in 2008, and they had a nasty court dispute over the split and custody of their three children.
Over time, On Her Majesty's Secret Service has gained fans. It is considered darker than most Bond films and '60s devotees especially appreciate the film's groovy wardrobe (including Lazenby's 007 modeling a ruffled shirt).
Lazenby continues to take part in various Bond tribute events and documentaries, saying somewhat ruefully that, with the passage of time, he realizes that maybe he should have stuck with the role.
Ya think?
———————-
Are you a fan of George Lazenby's 007?
———————-
Read More
Filed Under: