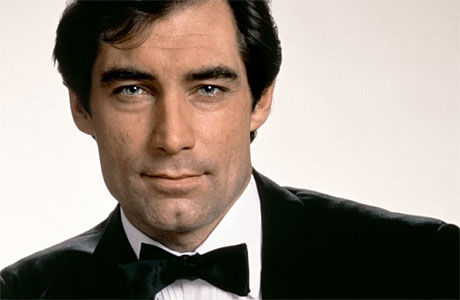 Note: for reasons of canonical purity we're excluding spoofs, even the 1967, Bond-mocking Casino Royale. Sadly this means the list can't include Jonathan Pryce, Joanna Lumley, Ronnie Corbett, Bernard Cribbins or Rowan Atkinson but at least we're pure.
1: Timothy Dalton
007 Status: James Bond, in Licence To Kill and The Living Daylights (see picture above)
Doctor Who Status: Rassilon, furious leader of the Time Lords, in The End of Time.
2: Anthony Ainley
007 Status: He was also one of the Hong Kong policemen who discover James Bond's supposed corpse in the opening sequence of You Only Live Twice: "well at least he died on the job" indeed!
Doctor Who Status: The Master, rogue Time Lord, pantomime baddy and all round rotter.
3: Honor Blackman
007 Status: Pussy Galore! The Bond girl with the most impossible-to-live-down name.
Doctor Who Status: Professor Lasky, the scientist with a particular passion for plant life in Terror of the Vervoids.
4: Hugh Bonneville
007 Status: Air Warfare Officer on the HMS Bedford in Tomorrow Never Dies.
Doctor Who Status: the most piratical Henry Avery in The Curse of the Black Spot.
5: John Cleese
007 Status: He played Q in Die Another Day, after his turn as the original Q's assistant, jokily titled 'R,' in The World Is Not Enough.
Doctor Who Status: A little comic relief in the Fourth Doctor story City of Death, in which John and Eleanor Bron play art critics in a gallery, appreciating the TARDIS. Yes, the story was written by Douglas Adams.

6: Catherine Schell
007 Status: Catherine appears (under the name Catherine Von Schell) as Nancy, in On Her Majesty's Secret Service.
Doctor Who Status: Another Bond-related guest in City of Death, although her appearance, as Countess Scarlioni, is far less comic than John Cleese's.
7: Samantha Bond
007 Status: Miss Moneypenny in the Pierce Brosnan Bond films GoldenEye, Tomorrow Never Dies, The World Is Not Enough and Die Another Day.
Doctor Who Status: Mrs Wormwood, another rotter, in The Sarah Jane Adventures.
8: Paul Darrow
007 Status: Oh the irony, Paul may be best remembered as the sneering Avon in Blake's 7, but he played a Doctor in Die Another Day.
Doctor Who Status: And before Blake's 7 started, Paul played a very capable UNIT officer in the Third Doctor adventure The Silurians. AND Tekker in the Sixth Doctor adventure Timelash. Busy, busy man:
9: Geoffrey Palmer
007 Status: Admiral Roebuck in Tomorrow Never Dies.
Doctor Who Status: Captain Hardaker in Voyage of the Damned.
http://www.youtube.com/watch?feature=player_detailpage&v=wGmOlmTsVMU#t=346s

And finally, the most recent addition:
10: Steven Berkoff
007 Status: General Orlov, the Russian rotter in Octopussy.
Doctor Who Status: The Shakri in The Power of Three. Yes, really!
Read More
Filed Under: