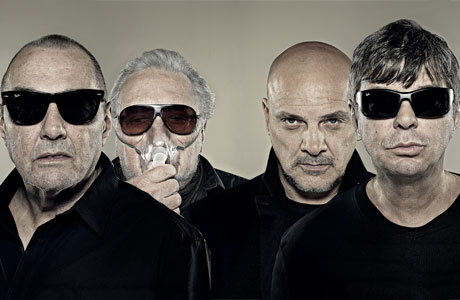 Hey, I don't know what you know, do I? I've got this list, right, of bands, yeah? British bands… And a lot of them had hit records on both sides of the Atlantic, some time ago. You may have heard of them, and you may not. And even if you have heard of them, you may or may not already know that some of them either failed to split up, or split up and got back together, or split up and then the singer kept the name and continues to tour with it to this day. Or you may know all of these things. If you do, you might just enjoy looking over the video presentations below to see how time has weathered the people involved.
There's all sorts to see and do here, is my point. Relax! Wallow!
Echo and the Bunnymen
The Bunnymen did split up for a while. Their singer Ian McCulloch released a couple of likeable solo albums, drummer Pete De Freitas died in a road accident, and then a version of the band was formed without Ian. Then Ian and guitarist Will Sargeant formed Electrafixion. Then a full Bunnymen reunion happened, with bass player Les Pattinson. Then Les left, and Ian and Will have just kept on going ever since. "Nothing Lasts Forever," you say? Well let's see.
Squeeze
Again, this lot have split up and reformed more times than jello. Essentially, Squeeze is a songwriting partnership between Glenn Tilbrook and Chris Difford and whoever else they can get to fill in the sound. Sometimes there are solo albums, sometimes there are not, but there is always Squeeze.
The Zombies
No such rolling consistency from this lot. The Zombies split in 1968, having recorded, in Odessey and Oracle, one of the era's best albums (and this was an era when good albums were quite commonplace). Then there was a brief reunion in 1991, and then Colin Blunstone and Rod Argent began working together again, finally calling themselves the Zombies in 2004. Since then, they've been touring and recording like everyone else on this list.
Jesus Jones
Remember "Right Here Right Now"? Well they're still here, even though their now is now our then. In nearly 25 years of being Jesus Jones, only one band member has left – their drummer Gen – and they're still gigging.
Simple Minds
In practical terms, Simple Minds are singer Jim Kerr and guitarist Charlie Burchill. When they stop working together, the band goes on haitus, but it never lasts for very long, and before too long, a new lineup emerges with those two out front. And yes, they do still play the song from The Breakfast Club.
Adam and the Ants
http://www.youtube.com/watch?v=bs8iblzgNXc
OK, technically this isn't a band situation. It's fine if Adam Ant tours and plays his old songs again under his solo stage name. Lord knows the poor fella has been through enough bad times to be allowed a do-over of his greatest moments. However, it's not the Ants without Marco Pironi, his guitarist and songwriting buddy. It is still pretty great though.
The Stranglers
Another band who purists will not go and see because a key member is missing, namely singer/guitarist Hugh Cornwell, who left in 1990. But they kept on going regardless, and have now notched up far more years without Hugh than they ever did with him. That, friends, is showbiz.
A Flock Of Seagulls
If you're British, the idea of A Flock of Seagulls continuing to perform after THAT haircut landed on the barbershop floor is insane. But they were bigger in the States, a proper hit band (for a short while) and this has allowed them to continue, whether it's just Mike Stock going out under that name, or the whole band having one of their sporadic reunions.
ABC
This lot didn't even finish their first flush of success intact. Every time a new album came out, there seemed to be fewer original members left, until nowadays the 'band' is just Martin Fry and his songbook, doing the '80s Nights all over the world. But what a songbook!
The Human League
The most interesting of them all, in that there were two definite stages to the career of the Human League. First they were an arty synthpop trio, then Phil Oakey sacked the rest of the band, recruited some proper songwriters and two female backing singers from a Sheffield nightclub – Joanne Catherall and Susan Ann Sulley – and went total pop. Then various members left, leaving Phil with Joanne and Susan. And then they kept going. There has been no Human League reunion because the Human League is really just about those three singers, which allows Phil to perform his solo hit "Together In Electric Dreams" as part of the League's set, without having to worry about annoying his bass player.
Do you have a great 'lost' (but not really lost) British band to add to the list? Tell us here:
Read More
Filed Under: