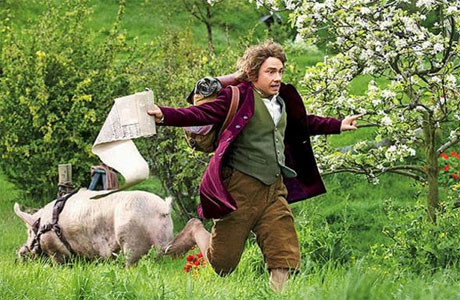 Yeah, thought that'd get your attention. This is, of course, a new production still from Peter Jackson's one, no two, no three film adaptation of JRR Tolkien's The Hobbit, featuring Martin Freeman as Bilbo Baggins.
As we can see, it's taken from an all-action running away moment, in which the Sherlock star hurtles across a field in great big rubber feet, waving a wallpaper sample, while being ignored by a bondage pig.
It'll all make sense when part one – The Hobbit: An Unexpected Journey –  is released in December, of course.
Here's the trailer:
Looks rather grand, doesn't it?
Read More
Filed Under: