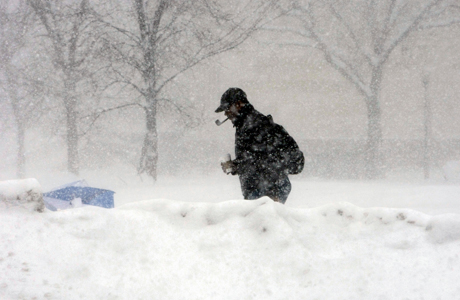 Possibly the biggest single decision an expat has to make is where to live. Even once you have picked your country – and that is often chosen for you by family, work or other circumstances outside your control – the real work begins, especially with a country as large and diverse as the U.S.
There is no one hot list of U.S. places to live, because expats' priorities can vary so widely, from job to schools to retirement to weather. Do you want a place to settle down in, to meet people, or to show your U.K. friends around?
One way to start choosing is to think of places you like to go to – or have visited – for a vacation and why. Look at other areas offering similar attractions. But beware: living somewhere is not exactly like being on vacation. You can't go on the same roller-coaster every week.
Here are ten tips for finding your ideal U.S. home:
1. Big is beautiful. Most U.S. cities have all the services an expat needs: doctors, hospitals, schools, restaurants, cinemas, night life, public transport or a freeway network, British consulate, international airport — and you won't have strangers commenting on your accent every day.
2. If you want to get away from it all. The U.S. has some of the world's greatest outdoors, such as the beautiful Rockies and Appalachian mountain ranges. New England is gorgeous, too, and conveniently close to Boston and New York if you need an occasional dose of civilization. Property is cheaper in remote areas, but prepare to be self-sufficient in food, power and sewage disposal. Beware areas prone to forest fires and mudslides.
3. Time zones. The three-hour difference between the U.S. East and West Coasts does not sound like much, but it can be crucial depending whether your work means you have to be in constant touch with Britain, continental Europe, Australia or Asia. Alaska is an hour behind Pacific Daylight Time and, while you may love Hawaii's beaches, they are six hours behind New York and 11 behind London. Distance can also be a problem if you hate flying or suffer badly from jet lag.
4. Climate. You may love your ideal place in summer or winter, but what is the weather like the rest of the year? Do you fancy putting chains on the car throughout the winter? Arizona, Texas and New Mexico get so hot in summer that you might not want to venture out for months on end. The much of the East Coast suffers from hurricanes and winter storms that can dump several feet of snow on your doorstep. Best weather is probably in southern California, a steady 60-80 degrees most of the year.
5. Some U.S. states are more taxing than others. The tax system is multi-tiered: as well as the federal government, taxes can be levied by states, counties and cities. Federal income tax varies from 15% to 35%, and states add varying amounts from Hawaii's 11% to zero in Alaska, Florida, Nevada, South Dakota, Texas, Washington and Wyoming. There is no blanket federal sales tax, but states take from California's 7.25% to zero in Alaska, Delaware, Montana, New Hampshire and Oregon. Annual property tax ranges from Louisiana's 0.2% of a home's value to North Dakota's 1.4%.
6. Work place. If you arrive in the U.S. with a job your location may be decided for you, but if you are made redundant and want to stay in the U.S. you normally have only six months to find another employer. Lowest unemployment is in North and South Dakota and Nebraska, highest in Nevada, California and Rhode Island. But highest forecast employment growth is in Texas, Nevada and Arizona.
7. Entrepreneurialism. While jobs are scarce, America welcomes people with the initiative to be self-employed or business starters. A survey of 6,000 proprietors by thumbtack.com found that Idaho, Oklahoma, Texas and Utah were the most business-friendly states and California the worst.
8. Entertainment. While many Americans do move state to chase the dollar, there is more to life than nursing your bank account. Most towns have at least one movie house and local TV channels, but if you want regular coverage of U.K. sports, you may have difficulties in the more outlying areas. Internet is not as obtainable as you might imagine, certainly in the western half of the U.S. With rare exceptions, constant top quality theater is confined to Boston, New York, Washington, Chicago, San Francisco and Los Angeles. However, London and New York productions frequently tour other venues.
9. Raising a family. America can be one of the best and the worst places to bring up children. Schools and local neighborhoods are prime considerations, as well as crime rates, roomy back gardens, parks and scope for days out. Inner cities tend to be unlikely prospects, as do rural areas — luring many parents to the endless suburbs. Forbes magazine recently identified Grand Rapids, Michigan, as most child-friendly for its low cost of living, excellent schools, easy commuting and affordable housing. Boise, Idaho, and Provo, Utah, came next for good schools and low crime. But none of that is much use if you as parents are committed to Dallas or New York. You may have to go for the most child-friendly district in or around your target city.
10. Retirement. Apart from schools, many of the same factors apply to the choice of where to retire. Along with nice weather, you might also want – or want to avoid – other retired people and nearby assisted living. While you are mobile the popular retirement states are Florida and Arizona for their low tax and high sunshine. But if you do not mind rain, Portland in Oregon has a lively community without the tourist pressure of San Francisco. By the sea, Santa Monica in California has a large British expat community, and a few miles up the coast are the gentler towns of Carpinteria and Santa Barbara – still within easy reach of the bustle of Los Angeles. But the East Coast is easier for U.K.-based relatives to visit.
What is your favorite U.S. location and why?
Read More
Filed Under: