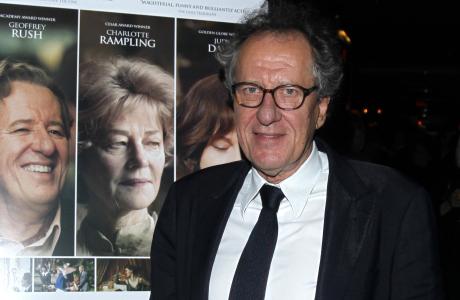 In recent years Geoffrey Rush has appeared in Hollywood blockbusters and British period dramas but now he can be seen in a new picture The Eye of the Storm set in his native Australia.
The film – which opens today (September 7) – tells the story of the intense relationships between a fading matriarch living in an upper-class Sydney mansion and her two adult children who've returned home from overseas for what appears to be a final visit. 
As Rush puts it: "The essence of the film is a strangely absurdist, dysfunctional family odyssey of two children who happen to be in their middle age coming back and confronting mother for wrongs that happened at some point in their childhood that need to be corrected."
Rush plays one of the adult children – Australian actress Judy Davis plays the other.
The mother is portrayed by Charlotte Rampling.
Geoffrey Rush remembers how a younger Rampling made a vivid impression on him with a memorable performance in the 1974 drama The Night Porter.
Rush recalls: "When I was a student in London in the mid-70's, I used to look at posters for The Night Porter, and if anyone had said to me then,"You're going to be in a film with her in the future," I would have thought you're nuts, let alone that she would be playing my mother."
All the acting in the film is strong. But several critics have found that the picture, directed by top Australian filmmaker Fred Schepisi, a bit of a disappointment.
The Eye of the Storm is based on Australian Nobel Prize winning author Patrick White's bestselling novel of the same name. There is the view that the screenplay suffers because it hews too closely to the detailed storytelling of the source material.
Read More
Filed Under: