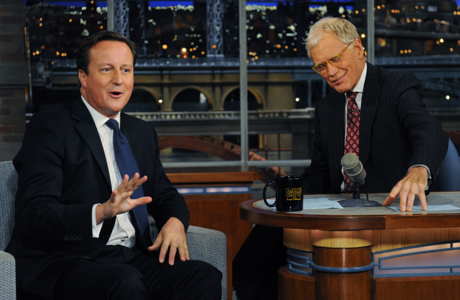 David Letterman reminded us last night that while J.K. Rowling may be Britain's most high profile import to this country, she is by no means the only one.
In fact, last night's show was a veritable Brit-fest – Dave's guests were Prime Minister David Cameron and actor Jonny Lee Miller, along with British musical group Mumford & Sons.
The Late Night host gave the prime minister a British history test of sorts.
While Cameron did just fine in explicating the difference between Ireland and Northern Ireland, and the history of the British empire, he was wrong in naming the author of the song "Rule Britannia" (it was written by two gentlemen named James Thomson and Thomas Arne, not by Edward Elgar, as the prime minister guessed).
Cameron got the date of the signing of the Magna Carta correct, 1215, but didn't know the proper translation into English, "The Great Charter." That was an item picked up in many press reports, but to be fair to Cameron that was more a test of his knowledge of Latin than anything else. And he did explain, simply and clearly for an American audience, the historic document's importance.
Letterman also praised the PM for his knowledge of American history and politics, and Cameron noted some of the two countries' past disputes.
"We interfered a bit in your politics a bit 200 years ago when we sailed up the river and burned down your White House," Cameron said. "There were some good bits and some less than good bits, and obviously we had a bit of a falling out."
"I like to think we've got over that now," he said.
Since Cameron took the opportunity to appear on a humorous late night show, his political opponents took the opportunity to joke about him on Twitter.
"Great to see a witty and intelligent Brit do so well to promote his country on Letterman last night," tweeted former Deputy Prime Minister John Prescott. "Well done Jonny Lee Miller!"
For a look at the entire show, click here.
Read More
Filed Under: